5 things Microsoft should do to improve synergy between Windows 10, iOS and Android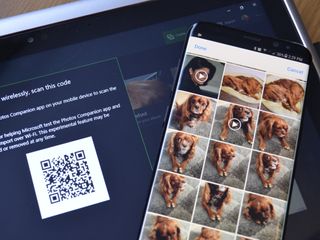 Microsoft's current mobile strategy is all about making your PC and smartphone work better together by allowing users to share experiences and activities across devices, regardless of whether you're using a PC, smartphone, or tablet. Thanks to the Microsoft Graph, features like Timeline let users start an activity on one device, and resume it on another. Everything from web browsing, to Word documents, and more can take advantage of Timeline and be shared across your devices.
You've also got Your Phone, an app on Windows 10 that lets you see everything that's happening on your phone, including the latest notifications, photos, and even text messages. Your Phone is the next step to bringing your PC and phone closer together, but some notable experiences are still oddly missing that should have been there on day one, especially on Android where Microsoft has a little more wiggle-room for synergy. So, here's four of those obvious experiences that Microsoft should add to its ecosystem.
Microsoft Photos app on Android and iOS
The first missing experience is a dedicated Photos app for Android and iOS. I use OneDrive to backup all my photos taken across all my devices, and honestly, the OneDrive app is a terrible photo-viewer. I'd love Microsoft to build a Microsoft Photos app for Android and even iOS, which would let me see all the photos taken across all my devices. I have hundreds of thousands of photos on my OneDrive, and viewing them all using the OneDrive app is a terrible experience.
A dedicated Photos app would also allow Microsoft to integrate some of its Windows Ink experiences, such as being able to draw directly onto photos with nice animated effects, which would then back up to my OneDrive and be viewable in the Photos app on PC. It would also be awesome if I could tag photos with people directly on my phone like I can on PC, and have those tags save to the cloud so that it's remembered across all my devices.
Calls on your PC
Another missing experience is being able to answer and make calls directly on your PC, powered by your phone. Apple can do this with Mac and the iPhone, and it'd be awesome if Microsoft could achieve the same functionality between a PC and an Android device. This could either be done using the Your Phone app or with dedicated Phone apps for PC and Android built by Microsoft.
An integrated Calendar experience on Android
A Microsoft Calendar app for Android would also be much appreciated. The Outlook app for Android already has your Microsoft Account calendar built-in, but the app itself oddly doesn't play nice when dealing with calendar links outside the app. For example, if someone sends me an appointment, I can tap on that appointment, but Android will try to add that to a calendar app that isn't Outlook. Usually, it adds it to the built-in calendar app, which is often Google Calendar.
Your Phone app OS integration
I would also love for Your Phone to eventually be integrated into the OS more than just being an app that you can pin to your Start menu. It'd be great if we could have a Your Phone applet in the System Tray that gave you quick access to your phones battery, recent notifications, and last text message received, all without having to open the Your Phone app. My People integration would also be excellent, letting you pin a phone contact to your taskbar for quick SMS and more.
Movies & TV apps for phone
Finally, a Movies & TV app on Android and iOS would complete the experience. We already know these apps are in the works, which is great news, but I'm hoping they sync up with the PC app, allowing me to resume a movie from the second where I left it on my PC, for example. Small stuff like that makes all the difference.
What do you think?
Overall, I hope Microsoft gets around to thinking about the smaller details when it comes to PC and phone integration. There's more to it than meets the eye, and to make for a seamless experience, the synergy between devices needs to go both ways. What do you hope Microsoft focuses on when it comes to phone and PC integration? Let us know in the comments!
Master your iPhone in minutes
iMore offers spot-on advice and guidance from our team of experts, with decades of Apple device experience to lean on. Learn more with iMore!