Best Buy promo takes up to $100 off iPad Air 2, iPad mini 3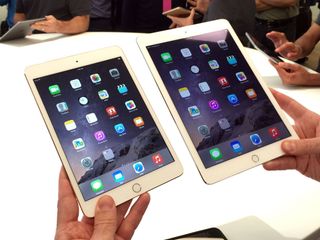 If you're still eyeing an iPad, Best Buy's latest promotion can save you up to $100 off of Apple's latest tablets. The savings apply to both the WiFi and the WiFi and cellular models of both the iPad Air 2 and the smaller iPad mini 3. Savings for the iPad Air 2 is at $50 for all variants and capacities, while the iPad mini 3 savings start at $50 for the 16 GB models, $75 for the 64 GB models, and jumps to $100 off the 128 GB models.
With the Best Buy discounts, the iPad Air 2 starts at $450 for the 16 GB WiFi model while the same configuration iPad mini 3 starts at $350.
Be sure to head to Best Buy's website to check out their sale. Right now, all models qualify for free shipping if you'd rather not brave the trek to a local Best Buy store to snag an Apple tablet.
Source: Best Buy (opens in new tab)
Wait till next year and update to the iPad Air Plus. Sent from the iMore App

Does anyone know how much best buy gives if you trade in your old iPad? Sent from the iMore App

Not enough. I upgraded my gen 1 mini to an iPad Air 2 today and someone I know mentioned they take trade ins, but that they don't pay much. You're better off selling it on craigslist.

I thought Apple had really, really restrict rules about offering discounts on their products? Like, too my knowledge, Best Buy can't take of $50 directly, but instead have to bundle the full price iPad with another offer (like a $50 gift card). Maybe things have changed or I just misunderstood Apple's retail policy, but nonetheless: I was under the impression Apple didn't like people offering discounts on its products.

I got an iPad Air 2 today and it was $449.99 + tax. No gift cards involved.

the best buy site is broken. no ipads are available in any of the stores shown and there is no way to get the system to present shipping options. they are really screwed up: on black friday, the site was totally down. what a tease....

Thanks, just called up Best Buy and had them price match to my Ipad Air2 and smartcover. $55 coming back to me!

If you order something shipped from best buy be prepared to wait. Took over a week for my ipad mini 2 to ship after they received my order.

And I just bought a 64gb iPad Air 2 a couple of weeks ago - FML. Anyone know if they have like a 30 day price guarantee, or whatever?

I had a good experience with an exchange at Best Buy in Fullerton CA. I originally bought a silver 128 gig open box, that was Geek Squad certified. At the time it was the only 128 left in stock. A week later, I saw the 100. discount, and exchanged for a brand new unopened Air 2 in gold. I ended up with a 45..00 cash return in the process. I think a lot of it is timing, but in the end, Not a bad deal.

I just bought an iPad Air 2, 64 gig. Saturday night. Returned to Best Buy this morning and received $50. plus the tax difference. Thanks Imore!!!

Not as good as the pre black friday deal of $399 for 16gb wifi air2. But there is also a mivers coupon for 10% off.

need movies, e-mail, music ,u-tube, Web and photos, can't decide on Air2 or Mac Air!
Thank you for signing up to iMore. You will receive a verification email shortly.
There was a problem. Please refresh the page and try again.