Best Steam Diverter for Instant Pots in 2022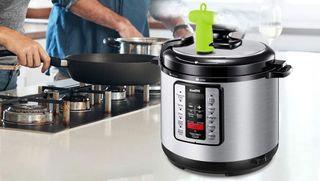 Love your Instant Pot, but hate the steam release? Join the club. Hot steam from pressure cookers can badly damage kitchen cabinets with moisture and can even cause warping. A steam diverter that directs the release away is an absolute must for people who like to pressure cook often. We've got several good choices so you can find the one that's perfect for you.
Sweet release
Which steam diverter you should opt for is going to be very much dependent on which model of Instant Pot pressure cooker you have. The other consideration is which way you want the steam to be diverted, sideways, straight ahead or downwards towards your countertops.
Our overall best pick, the Hydream Steam Diverter (opens in new tab) comes recommended for owners of a Duo and Smart models and diverts the steam evenly out of each side, protecting cabinets overhead.
If you own an Instant Pot Duo 60, then the substantial Henmi Steam Diverter (opens in new tab) is good quality and popular choice. Meanwhile, anyone that enjoys the lighter side of life will enjoy inviting SteamMates Nelson (opens in new tab) into their kitchen.
Amy-Mae has been writing about consumer technology since before the iPhone was even a twinkle in Steve Jobs' eye. She started out in magazine publishing with the UK lads' mag 'Boy's Toys' then moved online with startup Pocket-lint.com as the first full-time member of staff, helping grow the site to one of the UK's largest gadget sites. Amy-Mae then moved to Mashable when it only had a staff of around 10 people. After working her way up to a senior role there, Amy-Mae left in 2014 to have her daughter. Since then Amy-Mae has continued to contribute to Mashable and The Daily Dot, keeping up-to-date with the latest consumer technology and social media trends. For iMore.com, Amy-Mae gets to her explore her love of home cooking, concentrating on all things kitchen tech.
Get the best of iMore in in your inbox, every day!
Thank you for signing up to iMore. You will receive a verification email shortly.
There was a problem. Please refresh the page and try again.