Chinese president discusses cybersecurity with Tim Cook, other tech executives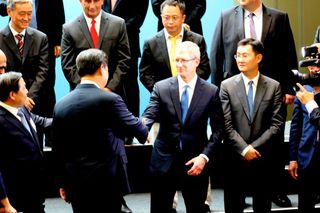 Chinese president Xi Jinping met with Tim Cook along with other tech leaders at the Internet Forum held at Microsoft's Seattle campus yesterday. The conference was attended by CEOs of leading US and Chinese tech companies, including Microsoft's Satya Nadella, Facebook's Mark Zuckerberg, Alibaba's Jack Ma, Ginni Rometty from IBM, Amazon's Jeff Bezos, Intel's Brian Krzanich and several others.
Jinping said that China has the largest Internet user base in the world, and that the US possessed the "most-advanced Internet technologies." The Chinese president then called on cooperation between the two countries on issues relating to cybersecurity:
Source: GeekWire
The clumsiest man in tech.
Thank you for signing up to iMore. You will receive a verification email shortly.
There was a problem. Please refresh the page and try again.