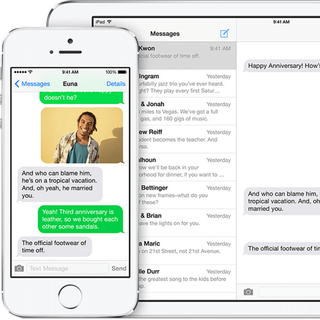 Continuity is a new feature in iOS 8 and OS X Yosemite that allows iPhone, iPad, and Mac to remain true to their form-factors while still working seamlessly together. Continuity includes a new, cross-compatible AirDrop, a new Instant Hotspot for effortless tethering, Handoff to pass app activities back and forth between devices, and the ability to take and make calls and SMS/MMS from your iPhone on your iPad or Mac.
AirDrop
AirDrop started off on OS X Lion back in 2011. It used Bonjour (zero config) and personal area networking (PAN) to discover and transfer files between Macs, and eventually made its way from the Finder to the Share menu and Open/Save dialogs. Where it didn't find its way was on to iOS. At least not until iOS 7.
When AirDrop did come to iOS, however, it came in name only. The protocol itself was significantly different. With no Finder in iOS, AirDrop existed only in the Share sheet. Instead of Bonjour and PAN, it used Bluetooth LE and direct Wi-Fi to transfer data. It was an incredibly secure implementation but it wasn't compatible with the older version on OS X. At least not until iOS 8 and OS X Yosemite.
Instant Hotspot
Tethering from an iPhone or iPad cellular to a Mac or iPad Wi-Fi has always been a bit of a pain. Some of that has been carriers and their cockamamie tethering plans. But some of it has always been the process which, at the best of times, required a password to be entered, and at the worst required off/on toggles or reboots to get it working consistently.
No longer. Now your Mac or iPad Wi-Fi can instantly connect to your iPhone or iPad cellular and you can be up and using the internet in no time.
Handoff
Rather than trying to fit one interface across a range of different devices, or making the cloud the center of the universe, Apple is promising to transparently, seamlessly move whatever activity you're doing to whatever device you want to continue doing it with. Handoff will work with Mail, Safari, Pages, Numbers, Keynote, Maps, Messages, Reminders, Calendar, Contacts, and third-party App Store apps that add the functionality.
There's been no word yet on Handoff working with music, video, games, or other forms of media.
Continuity Calling
iPhones have full on cellular voice radios. That's what lets them make and receive calls over the traditional telephone network. iPads can optionally have cellular data radios, but that doesn't give them access to the telephone network. Macs haven't yet been given any cellular radios of any kind. iPads and Macs can both use Apple's FaceTime Audio service, or other voice-over-IP services like Skype, and that works great if you initiate or get a FaceTime or Skype call. But it doesn't help you at all if your iPhone rings and you're sitting across the room with your iPad or at your Mac.
Continuity's call making and answering does.
Continuity SMS/MMS
Apple has added the ability to send and receive SMS and MMS from all your "green-bubble friends" from all your iOS and OS X devices. That means, even if your iPhone is in your bag or in another room, you can still use the carrier messaging channel to stay in contact with Android phone, Windows Phone, BlackBerry, and feature phone users all.
Sending and receiving SMS/MMS on iOS 8 for iPad and OS X Yosemite: Explained
Thank you for signing up to iMore. You will receive a verification email shortly.
There was a problem. Please refresh the page and try again.