Gameloft announces new mobile MMORPG Order & Chaos Online 2: Redemption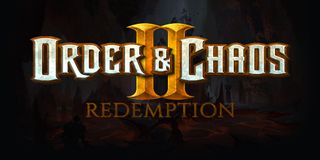 Many mobile games claim to be massively online multiplayer role-playing games (MMORPGs) but so few of them are true RPGs. Most simply take some common mobile game design, throw in global chat and asynchronous multiplayer features, and call it a day. But a few games have truly qualified as MMORPGs, daring to bestow huge massive worlds for mobile players to team up and explore. The best known, of course, is Order & Chaos Online from Gameloft.
Order & Chaos Online (which remains playable online to this day) is an epic fantasy role-playing game patterned after the perennial PC and Mac hit World of Warcraft. Although Gameloft's foray into the MMO space was quite amazing for its time, Order & Chaos Online has begun to show its age in recent years. Luckily for mobile MMORPG fans, Gameloft has just announced that Order & Chaos Online 2: Redemption will be coming to mobile platforms later this year!
Returning to Order & Chaos Online
Order & Chaos Online 2: Redemption takes place 600 years after the first game. Like its predecessor, this one will be set within the fantasy world of Haradon.
The story synopsis/teaser for Order & Chaos Online 2:
Sounds like another epic clash between races and factions is brewing!
Concept art from the first order & Chaos Online
What can we expect from Order & Chaos Online 2?
Beyond the story premise, Gameloft hasn't revealed much in the way of concrete information for the new Order & Chaos Online just yet. We can speculate a bit based on what we know about the previous game.
The original Order & Chaos Online allowed players to customize a character or "toon" (why would anyone call them that?) from five fantasy races: Human, Elf, Mendel (ugly Ewok things), Orc, and Undead. These characters could then specialize in four typical classes: Warrior, Mage, Monk, Monk, and Ranger. I played a Ranger.
After creating a character, players would spawn in one of two beginner's areas to learn the ropes of the game. They would eventually go on to complete storyline and optional quests alone or with other players, participate in challenging multiplayer dungeons, and perhaps even engage in PvP. All stuff you'd expect from a fantasy MMORPG, but I'm still amazed at how polished (for its time) and overflowing with content the original order & Chaos Online is.
The first Order & Chaos Online started out as a premium game with a monthly subscription fee. Gameloft quickly dropped the fee; precious few MMORPGs can sustain themselves with mandatory subscriptions, even on PC and consoles. Later in its life, Order & Chaos became a free to play game.
Will Order & Chaos Online 2 start out as a free to play title like its predecessor? You practically have to be free to play to succeed in today's mobile landscape, so I wouldn't be surprised. The question is how fairly monetized the new game will be, and whether players who enjoyed Order & Chaos Online during its premium days will embrace the sequel if it relies heavily on in-app purchases.
Preparing for the order and chaos
Order & Chaos 2: Redemption is "coming soon" to mobile platforms (including Windows). Hopefully that means this year!
Players can pre-register for news and to unlock rewards (including up to four consumable items) that will be available in game at launch on www.orderandchaos2.com. You also get to hear a new rendition of the Order & Chaos Online theme music, so the website is definitely worth a visit for series fans. Gameloft promises a Facebook page will go online for the game soon as well.
Master your iPhone in minutes
iMore offers spot-on advice and guidance from our team of experts, with decades of Apple device experience to lean on. Learn more with iMore!
Paul started writing about games in 2003 with his first strategy guide (Bomberman Land 2) for GameFAQs. He continued writing guides while earning his B.A. in Literature. When Windows Phone launched in late 2010, the Xbox integration lead our hero to jump on board the platform. He joined Windows Phone Central as Games Editor at the beginning of 2011, going on to review over 125 mobile Xbox titles over the years. He now leads Windows Central's Xbox One coverage, personally specializing in developer interviews, indie games, controllers and accessories, and Twitch broadcasts. Paul loves games on all platforms; he goes where the games are. Although very busy with console coverage, he sometimes contributes gaming articles to iMore and Android Central.