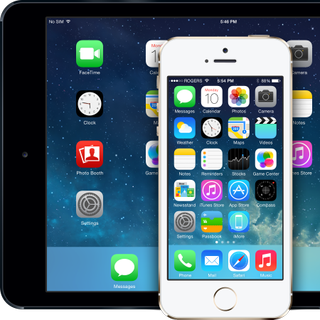 iOS — previously known as iPhone OS — is the operating system that powers Apple's iPhone, iPod touch, iPad, and Apple TV. Developed in absolutely secrecy for over two years, iPhone OS 1.0 was first demonstrated to the public in January of 2007 by Steve Jobs on the original iPhone, and shipped in June of that year. iPhone OS 2.0 shipped in July of 2008 and featured both enterprise improvements and the App Store. iPhone OS 3.0 shipped in June of 2009 and included Push Notifications and Voice Control. In January of 2010 Steve Jobs showed off a special version, iPhone OS 3.2, optimized to run on the iPad. iPhone OS 4.0 - later renamed iOS 4 - shipped in October of 2010 with multitasking and FaceTime. iOS 5 shipped in October of 2011 with iCloud and Siri. iOS 6 shipped in September of 2012 with Apple Maps and Passbook. iOS 7 shipped in September of 2013 with an all-new design and features like Control Center.
iOS 8 is currently under development and is expected to be shown off at WWDC 2014 this June.
Get the best of iMore in your inbox, every day!
Thank you for signing up to iMore. You will receive a verification email shortly.
There was a problem. Please refresh the page and try again.