Microsoft Edge has a promising future on iPad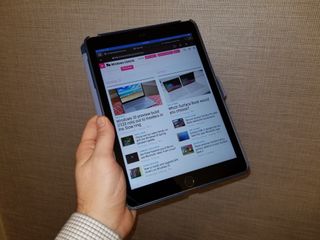 Microsoft has already rolled out Microsoft Edge to iOS and Android phones. They're a great way to continue the browsing experience across different devices. Now, that same experience is coming to the Apple iPad, so we took the preview release for a spin.
Edge on the iPad will be familiar to anyone who has downloaded Edge on an iPhone or Android phone, bringing "Continue on PC", synced passwords and synced favorites.
Edge on the iPad looks promising for an app in preview, but at the moment it is mostly a scaled up version of Edge's iPhone version. Here are my first impressions of the app and some ways that it could smoothly transition to being a full-fledged iPad app.
To download Microsoft Edge for the iPad you can sign up for the preview on Microsoft's website.
Must-have apps if you use iOS and Windows 10
Familiar features
When Microsoft brings Edge to platforms other than Windows 10, the company doesn't rewrite the entire browser from the ground up and uses the web rendering engine of the platform that it's on. Instead, Microsoft aims to bring the Edge experience to different devices. It accomplishes this by letting users sync passwords, favorite webpages, and letting them use the 'Continue on PC' feature to send articles from mobile devices to Windows 10 PCs. While using the preview version of Ege on the iPad, my favorites synced over perfectly but passwords did not. I'll chalk this up to the app being in preview and expect password syncing to work well when the app is finished.
While these features do a good job of connecting mobile browsing to the PC, they still fall short in one major category, tab syncing. Continue on PC is nice but I'd love to be able to continue an entire browsing session from my phone on my PC. This isn't availalbe on the iPad version of Edge but Microsoft has talked about supporting it in the past.
I think Edge will run into roadblocks when trying to convert users from Safari, Chrome, or Firefox, and if there is a feature that isn't exclusive to Edge I believe that many people won't even give it a try. It's important that Microsoft closes any feature gaps while also fleshing out other parts of its browser.
In addition to features centered around extending the browsing experience across devices, Edge also has a nice reading mode, QR reader, and support for searching the web with your voice. These round out Edge nicely.
More than just rescaling
Turning an iPhone app into an iPad app involves more than just scaling up the user interface. The iPad has significantly more screen real estate than any iPhone and many versions have support for the Apple Pencil, or Logitech's Crayon. Edge needs to take advantage of these to be more than just a rescaled iPhone app. Edge also needs to utilize features like split-screen support which is currently unavailable for Edge on the iPad. Since its in preview it's okay that some features are missing, split screen support could arrive in the future; Microsoft has done a good job of implimenting iOS features into its other apps.
In addition to adding iPad features like split-screen support, I'd also like to see Microsoft ship some features from the Windows 10 version of Edge to the iPad. Specifically, I'd love to see the inking support that's available on the Windows 10 version of Edge arrive on iPads. This would allow everyone from professionals to students to mark up webpages using Edge on one of the world's most recognizable devices that supports touch and a stylus.
Overall thoughts
Microsoft Edge for iPad looks a lot like its smaller siblings on iPhone and Android but that isn't bad. I like Edge a lot and I like that I can easily continue browsing links between devices and also sync passwords and favorites between Windows 10 PCs and other devices. It also has a nice reading view and other features that make browsing the web easier.
Before Edge is fully released on the iPad it needs to gain some more features like split screen support. I'd also like to see some of the features that are Edge for Windows 10, such as inking, come to the iPad version as well.
What would you like to see added to the iPad version of Microsoft Edge before its full release to the public? Let us know in the comments.
Get more iMore in your inbox!
Our news, reviews, opinions, and easy to follow guides can turn any iPhone owner into an Apple aficionado