Microsoft has thrown its weight behind Epic in the big battle with Apple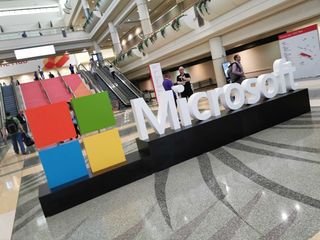 (Image credit: Daniel Rubino / iMore)
Recently, Epic dropped a bit of a bombshell by knowingly violating Apple's app store policies, leading to not only its popular game Fortnite being removed from iOS devices, but Epic Games' entire Apple developer fell in jeopardy as well, threatening the Unreal Engine SDK itself.
Epic clearly knew what it was doing, since it had an entire viral marketing campaign prepped for being removed from the Apple app store, while also signing up a very powerful legal team aimed at taking Apple to court, pressing them to remove, or at least alter, their 30 percent cut on in-app purchases for developers on its store.
Today, Microsoft itself joined the fight, issuing a statement in court on why it thinks Apple is being heavy-handed, and how Apple's behavior could threaten Microsoft's own games on iOS, such as Forza Street. Head here to read the full court filing, issued by Microsoft General Manager, Gaming Developer Experiences, Kevin Gammill.
Microsoft was in its own spat with Apple's gaming policies recently, since the firm blocked Project xCloud on iOS for arguably dumb reasons. With Apple already being investigated by antitrust regulators across the world for its behavior, it'll be interesting to see how Epic's court battle may factor into any future legislation targeting Apple.
Get the best of iMore in your inbox, every day!
Wow Microsoft is incredibly stupid to be backing Epic in this fight. How do they not realize they are next if Epic wins this BS lawsuit.

Remember that Apple hosts for 30 percent. They can charge more than "free" for development tools or $99 to be a member of the development community. My take is 30 percent is fair when compared to what it costs to bring an app to fruition without the App Store. If they are no longer examining apps then ANY app can make it through, even those you don't want to have your kids to have access to.

Is 30% a little heavy handed, maybe. Let's get to the brass tacks of this. Epic willfully signed the contract with Apple and knew what they were getting into. Epic also willfully engaged in breach of contact by breaking the contact that they had signed. Plain and simple Epic is WRONG!!!

...because Windows Mobile and the Windows App Store have had such great success in attracting and keeping app developers that Microsoft can offer expert opinion on Apple, the most dominant force in mobile devices and apps. Or something.

and yet I can still download the epic launcher directly to my computer without the app store. Now let me trying doing that on my phone....oh wait. and that's the problem.

Games are for children. Linux is for the poor. Microsoft is for the middle-class.