Microsoft launches new Bing visual search features on Android and iOS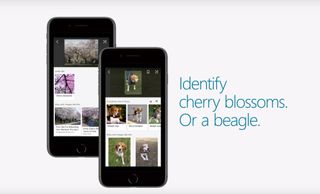 Searching the internet if largely a text-heavy experience, but Bing is looking to make things a little more visual. Microsoft announced today the rollout of new intelligent visual search capabilities across Bing, Microsoft Launcher, and Microsoft Edge, each of which will now support easily tracking things down with a snap from your phone's camera.
Using visual search is a fairly simple process. Within any of the apps in which it's available, you can either snap a photo or upload one from your camera roll. From there, you can hone in on an object in the picture on which you want more information, and Bing will identify it. Visual search will then serve up more information on the object, including its location and links to explore.
One of the main features Microsoft is touting is visual search's ability to streamline shopping. If you spot a jacket, piece of furniture, or something else you want to pick up, you can upload a picture and Bing will return similar items, prices, and options for where to make a purchase.
Microsoft says that visual search is available starting today in the Bing apps for both iOS (opens in new tab) and Android (opens in new tab). Further, Android users can check the feature out in Microsoft Launcher (opens in new tab) and Microsoft Edge (opens in new tab). The feature will be "coming soon" to Microft Edge for iOS (opens in new tab).
Get the best of iMore in in your inbox, every day!
Guessing this is more of a relaunch. I've been using it since Windows Phone 7. It was just covers and bar codes then, but the general visual search I've been using through the Bing app for a few years on my iphone already (think iOS had it when Microsoft took it away in Windows Phone 7.8 and Windows Phone 8.1).
Thank you for signing up to iMore. You will receive a verification email shortly.
There was a problem. Please refresh the page and try again.