Microsoft News now official, rolling out to everyone on iOS and Android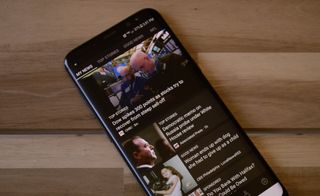 Microsoft today unveiled its latest news venture, appropriately under the banner of Microsoft News. The refreshed platform, Microsoft says, will power all of its news content across its news apps on Android and iOS, as well as MSN on the web and the News app on Windows 10.
Microsoft has been telegraphing this refresh for a while. The first major step came when the MSN News apps for Android and iOS saw a design overhaul in January, bringing a much more modern look on mobile devices. Last week, Microsoft took things a step further by rebranding both apps under the Microsoft News moniker for beta testers. Now, the overhauled design and new name are rolling out to everyone across both platforms.
The News app on Windows 10 and MSN on the web will keep their names, but Microsoft News now will be the "news engine" that powers both. From Microsoft:
Going forward, you'll be able to personalize the news experience across both the mobile apps and MSN, selecting what interests you. Microsoft will be curating feeds with a mixture of AI and editors, leveraging the AI to scan and process the type of content and deciding what's important or fresh. From there, a team of more than 800 editors around the world will curate top stories throughout each day.
You can check out the refresh now at MSN.com, as well as the refreshed apps on Android and iOS.
Thanks MSFT but I use hvper.com these days to get my News fix.

Microsoft started the nice looking news app out of the big three, and their's has always looked nice. The only issue I have with all three of them, MS, Apple, and Google is there is no way to make your own news feed like you could with Google Reader. It would be nice to star or select articles that interest you and others can subscribe to it. Google Reader could do this and I loved it. My work around now is sending it to Pocket and sharing that RSS with others but unlike Google Reader you couldn't leave a commentary on it. Really wish someone would bring this back.
Get the best of iMore in in your inbox, every day!
Thank you for signing up to iMore. You will receive a verification email shortly.
There was a problem. Please refresh the page and try again.