NVIDIA Geforce NOW arrives in open beta, enjoy high-end gaming on any Mac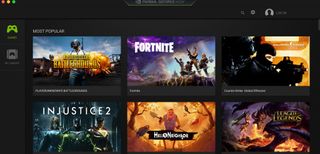 (opens in new tab)
NVIDIA had previously announced its GeForce NOW game streaming service but as of CES 2018 it's officially available in a free, open beta. (opens in new tab)
By leveraging NVIDIA's cloud server technologies the company is able to stream your games library to virtually any Windows PC or Mac, including those with integrated GPUs. A similar service has been available on the NVIDIA Shield products for a while now, allowing owners to buy PC games and play them through the cloud to their Android-powered devices.
Right now this is only going to play games you own, but that's OK. If you're into PC or Mac gaming and assuming you have a solid wireless connection, it means you can take your collection on the road without the need to have a dedicated gaming laptop.
Also new as of CES is Ubisoft U Play support, so any games you've bought there you can also link to the service.
It's possibly a pretty niche offering, but it's nevertheless an incredibly impressive thing. PC gaming continues to grow in popularity, and with a service like GeForce NOW you can be sat downstairs, or at an airport, in theory, playing PUBG on a Mac.
Initially, the beta is limited to North America and Europe, with localizations for the client application in both French and German as well as English. If you're interested, hit the link below to join the waiting list. It's proving popular right now so you'll have to be patient to get in.
Join the waiting list for GeForce NOW beta access (opens in new tab)
Get the best of iMore in in your inbox, every day!
Thank you for signing up to iMore. You will receive a verification email shortly.
There was a problem. Please refresh the page and try again.