NVIDIA's streamlined GeForce NOW UI makes it easier to find your games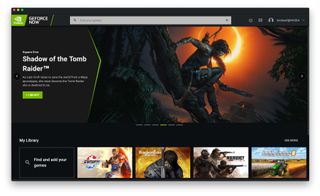 What you need to know
NVIDIA updated its GeForce NOW desktop experience today to make it easier to find the games you want to play.
The updated UI puts search front and center, while also making the search experience more intuitive and adding more details for each game.
The update is available to download now for GeForce NOW users. The original story follows.
Update September 19, 2019: NVIDIA now says that it "discovered a bug that would have a negative impact on our user's gaming experience" while initiating the rollout of today's update. The company says it will take a couple of days to fix and test, so the update's rollout has been halted for now.
NVIDIA is rolling out a fresh update to its GeForce NOW experience on PC and Mac today, with a focus on making it easier to find the games you want to play. The updated UI puts an emphasis on search while expanding the details that you're able to view for each game.
The revamp makes the app's search experience the focus, allowing you to dial in on any of your games directly from the search bar at the top of the window. What's more, the in-app search capabilities can now handle "more complex searches," according to NVIDIA. That's an important shift because GeForce NOW currently supports more than 500 games, so sifting through them could prove challenging.
In addition to the search improvements, NVIDIA has added more detail to each game listing. You'll now be able to see details like whether a game requires a controller or if it was developed my an indie team, among other categories.
GeForce NOW is still an invite-only affair, offering the ability to stream games from a personal PC rig in the cloud to Macs, PCs, and the NVIDIA Shield. You can request beta access (opens in new tab) to give the service a shot. Anyone who is already in the beta can grab today's update now.
Get the best of iMore in in your inbox, every day!
Thank you for signing up to iMore. You will receive a verification email shortly.
There was a problem. Please refresh the page and try again.