OneCast lets you stream Xbox One games to iOS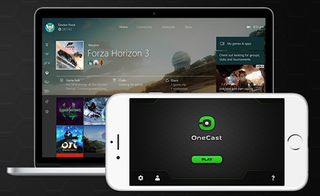 Microsoft offers game streaming from an Xbox One to Windows 10 via the Xbox app. Sometimes, you can't use a television because another member of your family has to watch a show or it would just produce a lot of light and noise. When these situations arise, it's helpful to just stream the game to a laptop or mobile device. Unfortunately, while the Xbox app only supports a handful of devices, it doesn't offer a truly mobile solution. Let's say you don't use a PC and prefer a Mac, iPhone, or iPad. Well, then you're just out of luck.
Luckily, there's an app called OneCast available for Mac and iOS which lets you stream your games to your Apple devices. The Mac version costs $20 while the iOS version costs $12. Much like game streaming on Windows 10, OneCast requires you to be connected to the same network as your Xbox One to get started.
Once you sign in with your Microsoft Account and connect a controller through Bluetooth or USB, OneCast will stream your dashboard over your home network to your Mac. The app supports 1080p streaming and can run in either full screen or windowed mode. It also supports multiple profiles. The iOS version offers a touchscreen controller overlay, but it doesn't work well. Oddly enough, using the on-screen controller results in frequent disconnections.
There's the possibility of simply streaming the game to OneCast and using the Xbox One controller, but this results in lag because the controller is directly sending signals to your console, and the console is delaying the feed to the screen. To overcome this, the solution would be to use a MFi controller like the SteelSeries Nimbus. We have been using the Nimbus with OneCast for months now, and haven't experienced any disconnections and other problems. OneCast even allows you to customize button prompts which mimic thumbstick presses — a feature the Nimbus lacks.
See at Amazon (opens in new tab)
OneCast works like a charm on Macs and iOS devices, so be sure to check it out. However, be sure to use it with a MFi controller and a grip that holds your phone to it. This is the only solution out there for streaming Xbox One games to Apple's products.
Get the best of iMore in in your inbox, every day!
Thank you for signing up to iMore. You will receive a verification email shortly.
There was a problem. Please refresh the page and try again.