Play on your PlayStation 4 remotely from your Mac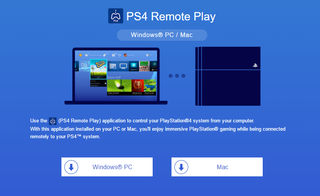 Sony has finally released PS4 Remote Play for OS X. This handy software allows owners of Sony's console to enjoy their collection of PlayStation 4 titles from the comfort of their Mac. While the connection will be limited to a maximum of just 720p (at 60fps if you can handle that level of quality), it's neat to see the company offer something similar to that of the official Xbox app on Windows.
Remote Play is part of the 3.50 update, which also introduced some new features like the ability to appear offline, notifications when friends come online, user scheduled events, as well as making it easier to connect to and join friends in-game. Do you own a PlayStation 4? Let us know how you get on in the comments!
Download the PS4 Remote Play client from Sony
I installed it quickly this morning, will test from the office at lunch! I'm sure it works best on the same network. We only have one TV so the promise is one my wife is excited about! I just did the install for both the ps4 and my Mac, and both went smoothly and flawlessly. Really happy it requires a dual shock controller plugged into the computer, keeping console gaming tied to the controller is a big deal.

I don't believe you can use it from a different network, has to be on the same network. So you wont be able to test at your office.

I did test it earlier at work, and yes, it does work over the Internet!

This is what I'm talking about!

I just set it up on MacBook Air works fine. Playing the Division Sent from the iMore App

Downloaded it this morning. Works great. I played assasinan creed, gta 5 and fallout 4. All ran great. This is gonna be such a useful feature. Also, some people say it needs to be on the same network. Not true. Remote play can work from anywhere. But you need a good connection.

Nice about it working anywhere. I remember when they first released remote play that wasn't the case. I didn't know they had changed the feature to be off the same network.

Well, when I saw that the update was available I went crazy! Tested out on my Macbook Air and loved it. The speed is better than the PS Vita's and runs surprisingly smooth. The only thing I don't like is connecting the controller via USB. i've connected it before via bluetooth to the mac for an emulator and works great. Yet, haven't tested it for the Remote Play app. Oh, and for some reason the app doesn't let me reply the other user comments so I'll say it here... The app should work through the internet, after all, its Remote Play! Sent from the iMore App

Wow... this is WAY better than I expected! Just downloaded it and played the Witcher III and Last of Us: Remastered on my 2013 Macbook Air... never thought that would happen! VERY useable and nice!

Can't imagine pvp games are playable but I'm pretty excited about trying this out.
Thank you for signing up to iMore. You will receive a verification email shortly.
There was a problem. Please refresh the page and try again.