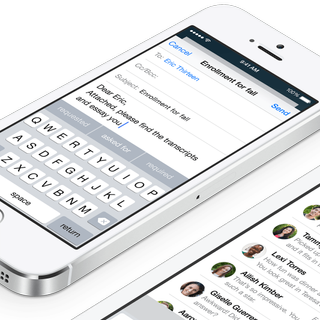 The original iPhone keyboard, introduced in 2007, was revolutionary for its time. But now it's 2014 and the state of the art of keyboards has changed. Prediction has taken the place of correction and third parties are now making innovative multitouch keyboards all their own. So, with iOS 8, Apple has responded with a new, contextually predictive keyboard system called QuickType, and with the option to add third-party keyboards as well.
The QuickType keyboard
Rather than auto-correction, Apple's new QuickType keyboard in iOS 8 introduces contextual prediction. As you type, the keyboard will suggest what it thinks are the most likely words based on what you're typing. See the one you want, hit it, the word is typed and you can move on to the next one.
To help up the odds Apple isn't just predicting your words in general but they're contextualizing them based on the app you're using and the person, if any, you're communicating with. For example, if you're in Messages, QuickType will predict words that are more casual than if you're in Mail. Likewise if you're conversing with a friend rather than a boss or business partner. What's more, based on the context of the message, QuickType can and will present you with obvious responses. For example, if you're asked if you want to go to dinner or a movie, QuickType can show you responses that prefer one to the other, both or neither.
QuickType language support
The new QuickType system is going to launch with support for multiple languages and variants around the world, including U.S. English, U.K. English, Canadian English, Australian English, French, German, Italian, Brazilian Portuguese, Spanish, and Thai. Simplified Chinese, Traditional Chinese, and Japanese are listed as already having predictive input.
QuickType security
All learning for the prediction system is kept on-device. Your typing patterns aren't shared with Apple or anyone else. Extensibility in general doesn't sync (yet), but that does mean you'll have to "train" every device separately. It's unclear whether or not restoring a device from backup will restore the prediction system to its last trained state, because that would require it being stored on iCloud servers, off the device.
Thank you for signing up to iMore. You will receive a verification email shortly.
There was a problem. Please refresh the page and try again.