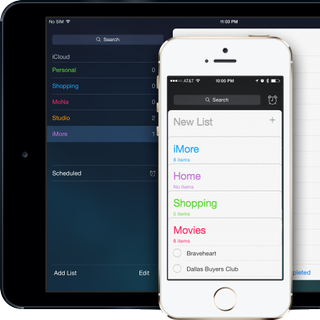 Reminders is the Apple task and todo app. As with most built-in apps, the functionality is bare-bones — it won't be replacing high end "getting things done" apps any time soon. Interestingly, you need to have either iCloud and/or Exchange sync setup to use Reminders (or it sort of curls up and won't do anything.) Once you've enabled sync in Settings, iCloud will create a Reminders list and Exchange will create a Task list and you're in business.
Reminders debuted with iOS 5 and received a facelift as part of iOS 7.
Thank you for signing up to iMore. You will receive a verification email shortly.
There was a problem. Please refresh the page and try again.