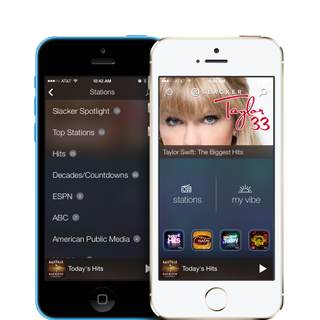 Slacker is an on-demand radio streaming service similar to Rdio and Spotify. The Slacker service currently boasts around 13 million songs in its library and is available in both the US and Canada. That number may not be as large as its competitors but where Slacker falls behind in collection size, it makes up for in speciality stations and subscription flexibility.
The Slacker service boasts tons of custom stations that range from sports to comedy and everything in between. With partnerships in place with ESPN, ABC, and many other media companies, Slacker brings live entertainment in a way that other streaming services don't. For live sports and event coverage, it's one of the best options currently available for both iPhone and iPad. The same goes for talk shows and news coverage from many different media outlets.
When it comes to customization, Slacker does a great job of abiding by your tastes and preferences. If you never want to hear a song again, just tell Slacker. It's one of the only services that I've found to actually abide by these kinds of rules. Where others typically slip up here and again and play something you've already voted down, Slacker holds strong and stays true to your preferences and tastes. The down side is that the pickier you tend to be, the more repeats you may find yourself hearing due to the smaller size of Slacker's library.
The subscription model that Slacker uses is also a little different than its competitors. The free version of Slacker is ad supported, but still offers unlimited streaming from any iPhone or iPad. For just $3.99 a month you can remove ads and add the ability to download your favorite stations and playlists for offline listening. One step beyond that, Slacker offers a $9.99 subscription option that features completely unrestricted on-demand listening. Download any song you want and listen to it any time you want, with or without an internet connection.
Thank you for signing up to iMore. You will receive a verification email shortly.
There was a problem. Please refresh the page and try again.