The SOLO EV is a one-person electric car – and I drove it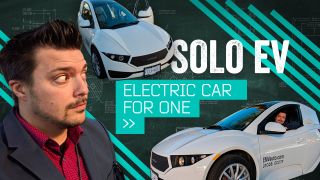 As MrMobile, I've covered electric cars from Tesla to Chevy to Toyota – but on my last day at CES 2018 I test-drove an EV unlike any I'd seen before. The Electra Meccanica SOLO is an electric car built for "the 90% of drivers traveling without passengers."
With a promised range of 100 miles, a top speed of about 80mph and a recharge time of between 3 and 6 hours, the SOLO might just raise some eyebrows in the world of the constant commuter – assuming they're willing to stomach the price of entry. Join me for my penultimate CES 2018 video, a test drive in the SOLO one-person electric car — and let me know if you'd like to see a more complete review video later in the year.
Stay social, my friends
Get the best of iMore in in your inbox, every day!
Thank you for signing up to iMore. You will receive a verification email shortly.
There was a problem. Please refresh the page and try again.