Star Wars: The Force Awakens hits the UK as digital download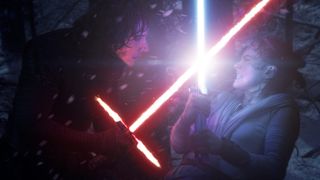 Star Wars: The Force Awakens is now officially available as digital download in the UK. No longer will you need to rely on regional loopholes to enjoy the latest instalment in the series. You'll be able to purchase and download from the likes of iTunes, Amazon and Google Play.
Unfortunately, as noted by Engadget, those awaiting physical copies will need to hold out until April 18 when Disney will release Blu-ray and DVD variants. Be sure to check stores before you download as some outlets will offer bundled extra content like behind-the-scenes.
You can purchase Star Wars: The Force Awakens for £13.99.
See on iTunes (opens in new tab)
Watching it now.....couldn't wait to buy this Sky buy and keep for me £13.99 DVD sent on release Sent from the iMore App
Thank you for signing up to iMore. You will receive a verification email shortly.
There was a problem. Please refresh the page and try again.