The Tablo Dual might be the next great thing in cord cutting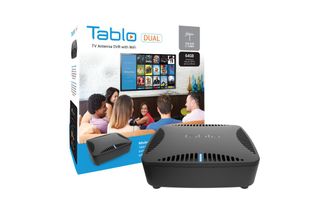 The addition of internal storage is a pretty big deal in this latest product from Tablo as it overcomes one of the less consumer-friendly parts of getting rid of your cable box. While 64GB isn't a lot, it's enough to get started recording live TV shows without having to resort to your PC or MAc.
We've covered a number of similar products recently, like the HDHomeRun Connect (opens in new tab), as well as software services like Plex and Emby. The Tablo Dual out guns all of these options by giving you everything you want in one box and in one app. If you need more storage to record your shows, just hook a USB hard drive up directly to the Tablo Dual. No computer required.
The dual-tuners allow you to watch and record two different channels at once, all the while streaming that TV content over your local network. By using the Tablo apps available on iPhone, iPad and and Apple TV, you can watch TV in any room in your house with minimal fuss.
Included with the Tablo Dual is a 30-day free trial of its optional TV guide data service and advanced features like one-touch series recording and out-of-home streaming via Tablo Connect. After the 30-day trial you resort to a $4.99 a month, $49.99 yearly or $149.99 lifetime subscription.
If you want one, the Tablo Dual is available starting June 4 from Best Buy in the U.S. for $249.99 or Tablo direct in Canada for CAD$329.99. The only downside for those of us not in North America is that we can't use it. That's a shame, but if you're in an area with good OTA TV coverage this might be one of the best things you buy for your home.
Get the best of iMore in your inbox, every day!