UK mobile operator GiffGaff is now offering 4G LTE on monthly plans starting from £12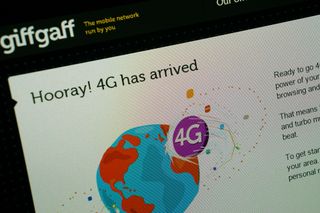 UK mobile operator GiffGaff has unveiled new plans to take advantage of faster 4G LTE speeds. Utilizing the O2 network, the virtual mobile operator is offering 4G on plans that start from £12 a month (for 1GB of data). There's no option for unlimited use, however, limiting power users to 5GB of 4G data for £18 a month.
Since GiffGaff works on the O2 network (800MHz), you'll need to have a 4G compatible mobile device (phones aren't included with the affordable plan pricing), but it's positive to see the network to offer LTE and provide more choice for consumers in the UK.
Will you be looking into GiffGaff's 4G LTE offering? Let us know your thoughts on the network's pricing in the comments.
Source: GiffGaff (opens in new tab), via: The Next Web
I live in the States, but have family in London. Every time I visit I just pop in my giffgaff SIM and top up for roughly USD$15-20. It has been very convenient and I maintain service without issue. Got to love unlocked iPhones. Now if only iMessage provided dual-SIM support so it would remember my US number. At least my family messages me using my iMessage email. As a side note to anyone wishing to get this service when in the UK, giffgaff (two years ago) would only send the SIM to a UK address. They would also send a SIM for a friend. So order one ahead of time to where you are staying, so you are ready once you get there. They took my US credit card without issue. Sent from the iMore App

Still waiting on 3g in my area...

'Since GiffGaff works on the O2 network (800MHz), you'll need to have a 4G compatible mobile device'
iPhone 5 is NOT compatible Sent from the iMore App

It's a great offer and I've given them a try in the past but O2 has very poor signal around London (I live and work in central London, I have one bar in my house and no calls come through). Sent from the iMore App
Get the best of iMore in in your inbox, every day!
Thank you for signing up to iMore. You will receive a verification email shortly.
There was a problem. Please refresh the page and try again.