U.S. government accused of spying on citizens with fake towers to collect phone data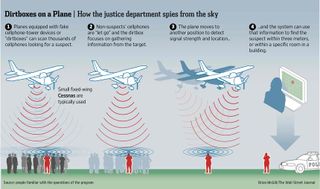 A new report suggests that a U.S. Marshals Service spy program operating under the Justice Department is collecting thousands of cellphone identification numbers from Americans by employing fake communication towers. The program has been operational since 2007 and the towers are mounted on Cessna airplanes operating out of at least five metropolitan-area airports. These fake towers would trick cell phones on the ground into sending their identification numbers, which are then collected by the government for use in criminal cases.
According to the WSJ, this is how the program works:
And this is how the dirtboxes work in obtaining your phone's identifying information:
According to the Journal, the program is targeted at "individuals under investigation" by the government, but it does collect information from innocent bystanders who aren't a suspect. After analysis of the collected data, it is reported that information from suspects are kept while non-suspect phone data is not.
Through the program, the government no longer needs to rely on phone companies to provide them with cell tower information and they can obtain this data themselves. The danger for consumers is that this technology could interfere with phone calls, though it's reported that special software helps to minimize interruptions with emergency calls to 911.
Do you think the latest tactics of the Justice Department is more over-reaching than NSA data collection in the past where massive amounts of cell phone records were collected?
Source: WSJ
Get more iMore in your inbox!
Our news, reviews, opinions, and easy to follow guides can turn any iPhone owner into an Apple aficionado