We went to the Tales from the Borderlands premiere and lived to Tell the Tale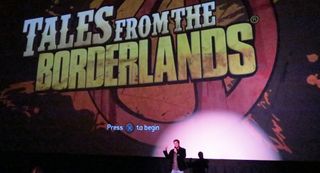 Tales from the Borderlands is a brand-new episodic adventure game set within the Borderlands universe. A collaboration between Telltale Games and Gearbox Software, Tales is the most story-driven Borderlands game yet. Players can grab the episodes individually as they are released, or opt for a season pass to get all five episodes for a little cheaper. The first episode is already available on Xbox One and 360, Playstation 3 and 4, and PC and Mac, with the Android and iOS versions sometime thereafter.
To celebrate the launch of Tales from the Borderlands, Telltale Games recently held a premiere event at the Alamo Drafthouse Cinema in Richardson (Dallas), TX. This marks the first time a game has debuted at the renowned movie theater chain, and we were lucky enough to attend. Read on for my impressions of the Tales from the Borderlands Episode 1: Zero Sum premiere and the game itself!
A different kind of premiere
For those who are not lucky enough to live near an Alamo Drafthouse, the theater is unique in that it combines movies, food, and alcoholic beverages in one awesome location. Walk into the lobby and you'll see a bar at one side, with the lobby and hallways filled with movie memorabilia and interesting décor. The theater that Telltale had reserved was filled with aisles of seats spaced graciously apart, a long table in front of each aisle for viewers' food and drinks.
Tickets to the premiere were free with a $4 food voucher purchase. They sold out within three hours, so the event was packed on event night. The aforementioned voucher could be put to use on several special Borderlands-themed drinks in addition to the Alamo's regular selection. I ordered the Tiny Tina's Sexopants GO! Cocktail, which consisted of Gin, Lime, Strega, and Ginger Beer.
Cosplayers: Gaige and Psycho from Borderlands
Looking around at the audience, you'd see a great many members dressed in Borderlands t-shirts or even cosplay. A total of ten people dressed as Borderlands characters. One lady even cosplayed as Fiona, the all-new female lead in Tales from the Borderlands. Telltale and Gearbox were so impressed, they treated her like a member of the family throughout the event.
Also in attendance were a who's-who of Borderlands and Telltale bigwigs. We caught sight of Gearbox CEO Randy Pitchford in the front row, along with Anthony Burch (Borderlands writer), Matthew Armstrong (Borderlands franchise director, interviewed in video), Mark Darin (Creative Director at Telltale), and many more.
Randy kicked things off with a magic trick in which a girl from the audience chose between five cards at random. Whatever the card said on the other side, Randy had to do. She pulled a "Hug" card, so that's what she got. As she returned to her seat, Randy revealed that the other cards all said "kill." Guess she lucked out!
After the opening concluded, a member of the Telltale staff began to play the game on the theater's 60-foot screen. It started out with a traditional animated Borderlands intro narrated by the accented arms dealer Marcus Kincaid. The Tales story follows the death of the notorious dictator Handsome Jack, the primary antagonist of Borderlands 2.
To start with, we see the game's all-new male protagonist Rhys wandering around a desolate location named Prosperity Junction. He calls for Fiona, but quickly gets knocked out by a masked marauder. The assailant demands that Rhys tell him about "the Gortys Project," which he begins to do. Thus begins a lengthy flashback that reveals how Rhys came to Pandora, the dangerous world where the Borderlands games take place.
Randy Pitchford, Mark Darin, and Job Stauffer
Rhys is an up-and-comer at the Hyperion Corporation, an arms manufacturer and one of the many factions engaged in the exploitation of Pandora and its citizens. Along with his friends Vaughn from Accounting and Yvette, Rhys wants nothing more than to move up in the company and the universe at large.
Unfortunately for the blue collar trio, Rhys' boss Henderson has just been replaced by the ruthless Hugo Vasquez (voiced by Patrick Warburton). Vasquez wasted no time in demoting poor Rhys. But before that happens, our protagonist overhears a phone call between Vasquez and someone on Pandora. The bad boss man wants to buy a Vault Key (an artifact that can open a cache of alien riches) from the Pandoran dealer, but he'll need time to gather the money first.
Fiona and friends welcome Rhys to Pandora
Soon we descend to the planet and witness Rhys and Vaughn attempting to purchase the Vault Key with stolen Hyperion funds. If they can get it back to the company before Vasquez, they'll be heroes. But even reaching the meeting proves exceedingly difficult, as the town of Prosperity Junction is teaming with bandits and ne'er-do-wells.
Once Rhys and pal meet with August and his lady friend to broker the deal, things seem to be going smoothly enough. But we return to the present and discover that both Rhys and Fiona are being held captive by the same masked man. Each of our protagonists blames the other for the failure of the Vault Key deal as well as their inadvertent involvement with the mysterious Gortys Project.
Cosplayers: Fiona and Lilith from Borderlands
Fiona starts telling her side of the story, and we flash back into the past again. Now we meet Fiona's sister Sasha, who looks very familiar. Both Fiona and Sasha have been raised into a life of crime by Felix, an elderly con artist.
Soon Fiona's story revisits the Vault Key deal, only from her perspective. Things do indeed go sour, with the locked briefcase full of money stolen by a team of psycho bandits. Fiona, Sasha, Rhys, and Vaughn will have to team up and rip off the psychos if they ever want to get their money back. Lots of fighting, double-crossing, and even a little bonding takes place throughout the remainder of the episode.
Tales from the Borderlands is another in a long-line of adventure games from Telltale, makers of The Walking Dead and Wolf Among Us. This new game has a markedly lighter tone than either of those titles. It basically plays out like a caper movie, with equal parts comedy and intrigue throughout the narrative.
While the story and setting will immediately appeal to Borderlands players, the actual gameplay differs greatly from Gearbox's Borderlands titles. Telltale games are about 80 percent story, twenty percent interaction, after all. Players will navigate 3D environments from a third-person perspective, looking for objects to scan (which always reveals a humorous description) and things to interact with.
The combat and action sequences don't play much like Borderlands either. Rhys and Fiona will get into lots of trouble with bandits and other enemies, but the sequences play out via quicktime events (QTEs) instead of first-person shooting. Players will need to swipe in various directions or tap the correct button or icon in order to attack foes and avoid all manner of exaggerated peril. The action is very exciting, and you don't even need to be a hardcore gamer to survive.
Telltale Games are famous for allowing players to have a say in the outcome of character interactions and the overall story. Throughout the first episode of Tales, our presenter frequently had to stop and choose between dialogue responses and actions for the characters to take. These parts were a blast during the premiere, as the audience shouted and cheered their preferred responses.
Paul Acevedo, Fiona cosplayer, Job Stauffer, and Matthew Armstrong
Tales from the Borderlands Episode 1: Zero Sum is filled with fun references to the Borderlands games and universe. You'll meet a certain Vault Hunter, choose authentic Borderlands equipment for a talking mech, and get a tease of another fan favorite character that will show up in future episodes.
Even after seeing the complete episode play out on the big screen, I couldn't wait for the game to launch so I could play it for myself and make different choices. Whether you're a Borderlands or a Telltale fan, Tales from the Borderlands is a must-play adventure game.
'Zero Sum' is available now on Xbox One and 360, Playstation 3 and 4 in the US, Steam, and Mac OS X. The Xbox 360 and European Playstation versions launch next week. iOS and Android versions will follow, but don't have specific release dates yet.
Stay tuned for our full interview with Telltale and Gearbox!
Master your iPhone in minutes
iMore offers spot-on advice and guidance from our team of experts, with decades of Apple device experience to lean on. Learn more with iMore!
Paul started writing about games in 2003 with his first strategy guide (Bomberman Land 2) for GameFAQs. He continued writing guides while earning his B.A. in Literature. When Windows Phone launched in late 2010, the Xbox integration lead our hero to jump on board the platform. He joined Windows Phone Central as Games Editor at the beginning of 2011, going on to review over 125 mobile Xbox titles over the years. He now leads Windows Central's Xbox One coverage, personally specializing in developer interviews, indie games, controllers and accessories, and Twitch broadcasts. Paul loves games on all platforms; he goes where the games are. Although very busy with console coverage, he sometimes contributes gaming articles to iMore and Android Central.