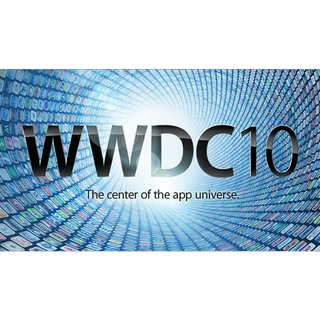 The iPhone 4 was the big ticket item at WWDC 2010. A massive redesign on the 3GS, the iPhone 4 came to town clad in glass front and back. Packing the new A4 chip underneath, one of the standout features was the Retina Display. Seen for the first time on the iPhone 4, it packed 4 times as many pixels into the same 3.5-inch display, and looked better than anything else we'd ever seen on a mobile device. The camera was uprated to 5MP on the back, and for the first time Apple included a front facing camera to make use of the new Facetime video calling feature. Alongside the new 16 and 32GB iPhone 4, Apple also used the event to announce an 8GB iPhone 3GS.
Apple had held a special software event for the iPhone earlier in the year, but it was at WWDC that the name was changed to iOS for the first time. iPhone, iPad, iOS. There was talk of apps too, with the announcement of iBooks launching for the iPhone having already been available on the iPad, and Apple's plans to introduce iMovie for iOS.
Thank you for signing up to iMore. You will receive a verification email shortly.
There was a problem. Please refresh the page and try again.