How to use Emby to watch live TV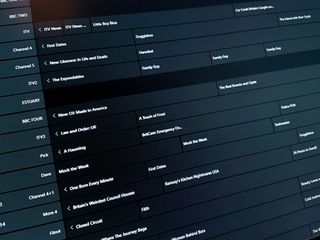 Unlike its main competitor, Plex, which currently only offers a DVR service, Emby also offers the ability to watch live TV as well as record it. That, on its own, might be enough to swing your decision over which media center you choose. However, while it's a super useful feature to have, it's not the simplest of processes to get it set up.
But once you have, the benefits filter down to everything else you have running Emby.
The first thing you need to do is download Emby Server for either Windows or Mac and go through the basic install process. It doesn't take long and involves not much more than pointing the software at a place on your computer where you store your media files.
Download Emby Server for Windows and Mac
You'll need to subscribe to Emby Premiere. The apps are free to download, but you don't get access to this kind of functionality without paying the $4.99 monthly subscription fee.
How to import TV channels
You'll need to have a way to get channels into Emby in the first place, and for that we use the excellent HDHomeRun Connect (opens in new tab). Emby supports M3U tuners and "others," so your mileage may vary a little. But HDHomeRun is well supported.
Load up your Emby server dashboard.
Click live TV in the sidebar.
Click the add button next to tuner devices.
Either select your tuner type manually or click detect my devices.
Check the options for favorite channels and hardware transcoding if your device supports them.
It's also important to remember that DRM protected channels won't be imported.
That's the first stage. You now have TV coming into your Emby server, but it has no guide, so all you have is channels without knowing what's actually on them. The second part of the setup process is where you'll sort this out.
How to add TV guide data
You need to get hold of a file from somewhere online that provides the data you need. Emby supports a couple of popular options out of the box: Schedules Direct (paid) and XML TV (free). There is also an "other" option if you have your own source. For the purposes of this guide (and because I'm based in the UK), we used XML TV.
This involves going to the XML TV website and selecting a URL that corresponds to the desired feed for TV guide data. There are a few to choose from, so make sure you get the right one. Once you've found it, copy the URL next to it and follow these steps:
Go back to live TV on your Emby dashboard.
Click the add button next to guide providers.
Select the option best suited to your data, in this case XML TV.
In the options (shown above) paste your URL into the top box.
Click save.
You should now, after a short loading period, have a fully populated TV guide. You can browse and find your favorite shows with ease and also set them to record using the Emby DVR if you've set that up.
That's all there is to it. It's a bit of a process, but once you're up and running it'll allow you to use Emby in conjunction with its companion apps on your favorite devices to watch live TV whenever you want.
Download Emby from the App Store (opens in new tab)
Get more iMore in your inbox!
Our news, reviews, opinions, and easy to follow guides can turn any iPhone owner into an Apple aficionado
"You'll need to subscribe to Emby Premiere." No thanks.

I'll stay with Plex thank you. It has iTunes integration as well as an easy setup to stream your content to anything. Browser based as well as apps for iPhones/iPads and android phones and tablets. Plus you don't need a subscription to run Plex. And if you do, it is a yearly fee which is much cheaper than this alternative.