Microsoft, it's time to speak up about Project xCloud on iOS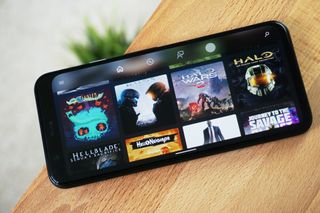 (Image credit: Matt Brown | iMore)
Microsoft recently set a date for its game streaming debut, with Project xCloud scheduled for public availability on September 15. The technology joins its existing Xbox Game Pass Ultimate service, its monthly subscription for Xbox games, with cloud gaming to be included at no additional cost for users. That brings over 100 Xbox One titles to mobile devices, but at least in its initial iteration, eyes only an Android release.
The reasoning is clear — iPhone development is at a standstill due to Apple and its policies. It comes amid rising developer tensions, with a recent tech antitrust hearing dragging top CEOs for perceived monopolies. But even with Apple in the hot seat, there's no resolution in sight.
Microsoft pushes ahead with Project xCloud on Android, leaving iOS users in the dark
While Project xCloud trials on Android soon advance to the Xbox Game Pass subscription, the two-year timeline has seen little progress on its iOS counterpart. While Microsoft invested in its game-streaming backend throughout the decade, closed testing kicked off exclusively through Android devices, despite instances of functional iPhone prototypes. Project xCloud saw a limited iOS test a few months later, but capped at just 10,000 participants, with only one playable game.
In the following months, little has changed. While the Android version now boasts over 100 playable titles, iOS devices only have "Halo: The Master Chief Collection." The Android version receives updates on a steady cadence, while the iPhone has only received minor bug fixes and performance tweaks. The latest preview build also shutters on August 5 (in a few hours, as of publication) due to an automatic Apple-enforced expiry date on all TestFlight apps, signifying 90 days without an update on iOS. Once expired, the app will cease to function.
Project xCloud for iOS is left stagnant, while Microsoft pushes forward on its Android rollout. We understand the lack of updates appears to be the direct result of Apple's App Store policies, as further backed by a recent Bloomberg report. Cupertino policy prevents Microsoft from hosting third-party properties through its storefront, while also barring catalogs of multiple games in a single app. That provides the platform holder with full oversight on iOS app distribution, generating a seemingly insurmountable hurdle for Xbox.
Microsoft has also failed to expand its initial iOS testing group, still capped at just 10,000 users. While Redmond isn't talking specifics, that number comes from restrictions on the TestFlight developer platform, with a strict limit on active testers. It once again appears Microsoft has been unable to exceed that count, putting Project xCloud expansions on hold.
Apple's tight grip on iOS and the iPhone has caught the spotlight as of late, compounded with the recent antitrust hearing in late July. Apple, Google, Facebook, and Amazon all pushed back on claims of anti-competitive practices, with Apple CEO Tim Cook defending the company's App Store and fair opportunities for developers. But documents shared by the House Antitrust Subcommittee included examples of a backdoor deal between Apple and Amazon, halving the usual 30% revenue share for Amazon Prime. Apple also enjoys free roam on its platform, with its Apple Music and Apple Arcade services pushed above external rivals.
Apple, often described as a "gatekeeper" to the iPhone and its broader iOS ecosystem, continues to impose a variety of strict guidelines on developers. Various apps are mandated to use Apple's payment tools and take the 30% hit, although with exceptions for "reader" apps when accessing previous purchases. That births creative workarounds, with Netflix no longer providing in-app subscriptions or Spotify raising iOS on-device pricing. Most recently, apps like Basecamp's Hey email fight to stay online, with a commendable response from CTO David Heinemeier Hansson to fuel these conversations.
But for Microsoft's game streaming struggles, it's not alone. Google's Stadia and Nvidia's GeForce Now also face similar hurdles, unable to expand into that crucial mobile segment. And in the past, Apple formerly blocked Steam Link, which enables PC gamers to stream titles via their home network, with the app inaccessible until 2019.
Apple argues its platform doesn't stifle app development, and competition keeps the platform in check. But that's far from the truth, with well-documented cases of developers bending the rules to keep their mobile endeavors alive. It's all familiar ground here, and the outcome is still solely in Apple's control.
An inability to hit the iPhone and iPad locks out a sizeable market across all regions. Even with impressive technology to back, it's far from the ubiquity Microsoft needs to deliver.
I understand Microsoft's decision to stay quiet, with the company unlikely to go on the record bashing Apple, especially if negotiations remain underway. But the future of Project xCloud is uncertain, with its mobile-first approach to cloud gaming hampered by the OS duopoly. It's not just Microsoft, and we need more voices for something to change.
Get more iMore in your inbox!
Our news, reviews, opinions, and easy to follow guides can turn any iPhone owner into an Apple aficionado
Matt Brown is a writer at Mobile Nations focusing on Xbox and desktop VR. After realizing he wasn't good at video games, he stuck to this writing thing instead. Follow him on Twitter @mattjbrown.