OneDrive improves its photo albums for its web, iPhone and iPad users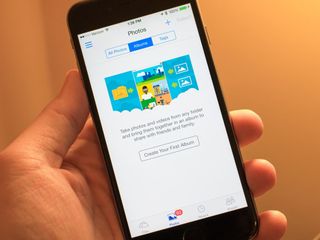 Microsoft has just announced some improvements to its storage service that will offer users a better look at their photos, along with new search features. Those changes and additions are currently available on the web and in the newly updated app for the iPhone and iPad.
Microsoft described the new photo viewing user interface for OneDrive, which it is calling Albums. It stated:
OneDrive will start using Bing search technology in a new way for both photos and documents. Microsoft stated:
In addition, the new OneDrive iOS update adds support for 1Password users.
Source: Microsoft (opens in new tab)
Get the best of iMore in your inbox, every day!
I have been writing professionally about technology and gaming news for 14 years.
The app crashes if you try and move anything. Sent from the iMore App

Sorry about that crash. You can work around it for now by switching from thumbnail view to details view. We'll get that fixed in the next update.

That works. Thanks. Sent from the iMore App

I've been moving more of my cloud storage needs from Dropbox to OneDrive lately. Mostly because OneDrive gives you 30GB to use vs. the 2GB (plus hoops to jump through) for Dropbox. If it wasn't for the fact that more iOS apps tie into Dropbox than OneDrive, I'd dump Dropbox entirely. If Dropbox had a tier of a plan between their free version and the 1TB version, I'd gladly pay for it. I don't need a terabyte of storage for $10/month, however I'd be more than willing to pay for 100GB at $1 per month.

I am beginning to at least respect the online service of Microsoft (I have an Office 365 account), but I still think Dropbox is the better online file service. I gladly pay for Dropbox Pro (or whatever they call it) and use it as a way of accessing most of my files on all my devices (and I love that Office for iOS can hook into it now). That said, I am still keeping an eye on OneDrive. I'm not opposed to moving to new services if they make sense. I'm not there yet with OneDrive, but who knows...

You really haven't given any objective reason why Dropbox is better than OneDrive. You just gave your opinion. Dropbox has better 3rd party app support. That's all. Microsoft has a different service for businesses so it's not worth comparing Enterprise Features in Dropbox to a consumer-oriented service like OneDrive. OneDrive seems to be innovating more these days, though, and of course it has the advantage of an entire ecosystem in which to integrate itself - including a Desktop OS with massive marketshare. Additionally, 2GB of storage to start is too much, and the only reason why you pay for DropBox, if they gave you 30GB (or 40, like grandfathered customers have) off the bat, the chances of most people needing to pay for Storage there wouldn't be paying anything. In any case, it's really late for them to be introducing what are basically basic features that have existed elsewhere for years. Dropbox had it, Amazon had it. I think even Verizon Cloud has this. They really need to be less laggard in improving their products. Even with this feature, OneDrive will be fairly bad for mobile photography workflow. They need to also bring the Photos app they're developing to other platforms, which may well happen. One thing I like about Microsoft is that using their services doesn't mean I'm necessarily beholden to their devices/platforms. The same cannot be said of Apple (where you'd need a miracle for iCloud Photos to make it to Windows, which is part of the reason why I'm about to ditch that for 3rd Party apps + OneDrive; I use an iMac and a Windows Notebook that I'm not replacing with a MacBook due to the OS X software ecosystem being rather thin compared to Windows for prosumer apps).

More notable in this update to my usage is the option to sign in to either personal or business OneDrive. Yes they have (or had?) the completely separate apps, but the whole experience across the board has been frustrating. I used personal OneDrive (Microsoft Account sign-in) tied to my work email address to keep my work files on. Then we got Office365 and I tried moving my stuff to the business OneDrive, also tied to my work email (Office 365 sign-in). But... there's no way to sign on to business OneDrive on the desktop to sync the files. It only takes the personal account. So just maybe this update to iOS means that the OS X app, and yes even Windows app itself*, will allow us to use Office365 credentials to log in and sync OneDrive files to desktop! *-Windows 8 (and 10 Preview) uses it's log-in credentials, also tied to Windows Account (not Office365), to sign in to OneDrive.