Surface Go vs iPad: Which should you buy?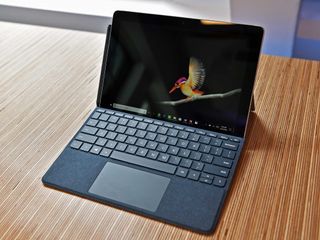 The answer to that question ultimately lies within your use for it. Not all tablets are created equal, and that's never more apparent than when you compare anything to the iPad. Apple is still the biggest single player in the tablet space, so it's always in conversations.
It's a worthy comparison, too. The iPad is a good tablet and with the latest model, Apple has brought the price to an attractive starting point while folding in some features from its more expensive models.
So, let's examine the case for buying both the iPad and the Surface Go before making a decision.
Why you should buy an iPad
If you just want a tablet, the iPad is arguably the best choice you can make right now. The latest regular model starts at just $329, and for that you get 32GB of internal storage and only Wi-Fi. Add $100 and you get 128GB of storage, and cellular models start at $459. All models have the same 2GB of RAM and Apple A10 processor, and iOS is optimized to run like a dream on it.
You also can't currently get a cellular Surface Go. For that, we have to wait. But believe it or not you can get the latest iPad for $70 less than a Surface Go, so it's also ahead if you're looking flat out to spend less money.
The latest generation iPad also supports the Apple Pencil, so for an additional $99 you can get to your digital inking, something that used to be exclusive to the iPad Pro. And if you want to get some typing done, there are a number of keyboards you can use with the iPad.
But, honestly, that's not why you should buy an iPad. Regardless of Apple's marketing message, the iPad is not a traditional computer, at least, not in the sense you've come to understand. The interface is 100% touch, and as a result, it's perfect on a tablet.
And that's why you should seriously consider the iPad. If you want a tablet that's a mobile computing device to run your favorite apps and games, consume video content, listen to music, browse the web, interact with social media, and a host of other things, the iPad is pretty much as good as it gets.
The App Store is absolutely chock full of incredible apps and games, and so for many, it's truly all the computer they'll ever need. You can do work on one, but that's not why you should buy one. You should buy one for everything else you use a tablet for. Windows 10's weakness is Apple's strength.
Windows 10's tablet mode is Surface Go's biggest weakness
Why you should buy a Surface Go
"Like a computer" proudly headlines Apple's homepage for the latest iPad. However, the meat of the matter is that if you're looking for an actual computer, a mobile PC, or something for productivity, the Surface Go is easily the best choice.
Let's start with some basics: It's a proper computer. It's a full Windows 10 machine with a full version of Windows 10 S that you can unlock to enable access to non-Store applications and other features. The Surface Go doesn't just work with a keyboard, it's designed that way, and it has mouse support, something the iPad does not.
So, while the Surface Go has a touchscreen, you don't have to use it. Just use it like a laptop and the workflow you're used to.
As a bonafide tablet, the Surface Go isn't quite as nice as the iPad, but it can be used this way, and Windows Ink support with the $99 Surface Pen add-on gives you a tremendous digital notepad at your disposal.
The Surface Go is a little more expensive at its $399 entry point, but for that you get 64GB of internal storage and 4GB of RAM. And Windows 10. It's a point worth repeating, because as good as the iPad may be, it's still using a mobile OS.
Windows 10's app store might be a little less fleshed out than Apple's, but it's still packed with plenty of goodies to help you relax when you're done working, including Netflix, Spotify, even iTunes. There's also the possibility of running any compatible desktop application when you're out of S Mode.
The biggest strength of the Surface Go is its OS. There's no limitation, no change to your workflow, no problems with running the software you need and no trouble getting real work done. The Surface Go is a mini PC, even if it falls behind a little as just a tablet.
The bottom line
Both Microsoft and Apple make great tablets, and you can certainly work and play on both. On the iPad, there are more restrictions to how you go about working, and if you're keen on keyboard, and in particular a mouse, it's hard to look beyond the Surface Go.
As a purely tablet purchase, the iPad is hard to top. Windows 10 tablet mode isn't the greatest, the App Store is rammed with quality apps and games, and it's even cheaper than the Surface Go at the entry level while also supporting inking with the Apple Pencil.
But for anything else, the Surface Go is a better choice. There's less compromise: Windows Ink is excellent, and what you have is a tiny tablet that runs the same software as your larger laptop or desktop PC. Surface Go isn't "like a computer," it is a computer.
And if that's what you're looking for, it's the one to buy. But it's a good choice to have to make.
Are you a Surface Go or an iPad user?
Which tablet do you prefer? Sound off in the comments below.
○ Which iPad model should you get?
○ Should you upgrade to iPad Pro?
○ iPad Pro vs. MacBook: Which should you buy?
○ What storage size should you get?
○ What color iPad Pro (2018) should you get?
○ Which U.S. carrier and plan should you get?
○ Should you get AppleCare+ or insurance?
○ The best way to buy your iPad
○ How to sell your iPad
○ Buy iPad at Apple

Get more iMore in your inbox!
Our news, reviews, opinions, and easy to follow guides can turn any iPhone owner into an Apple aficionado