8 easy ways to make iPhone X more Microsoft-friendly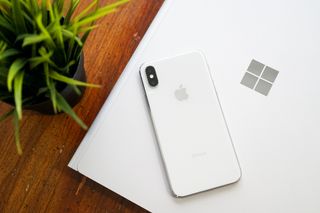 (Image credit: Al Sacco | iMore)
Windows Phone is dead, so I switched to an iPhone X. The experience is surprisingly great for people who use many services from Microsoft. Here are eight ways I use my new iPhone X as a "Microsoft Phone."
Outlook is an excellent app on iPhone
My main email and calendar app on the iPhone X is Outlook, and I absolutely love it. My favorite feature is Focused Inbox, which filters our important email, so I don't waste time scrolling through spam and newsletters I didn't subscribe to. Outlook on iPhone isn't just about email either. I like that my calendar is built-in and I also have quick access to my files stored in the cloud for fast email attachments. I've added Outlook to the iPhone's widget screen, so I can quickly look at upcoming calendar events when swiping right from the home screen.
Automatic photo backup with OneDrive
Speaking of the cloud, Microsoft OneDrive is fantastic on the iPhone X. First, I use OneDrive to upload my photos for backup automatically. This feature is especially helpful when switching devices or saving storage space on your phone. The iOS app itself is easy to use and very handy to access files in the cloud. For example, I store important documents, like my passport, there so I don't need to go looking for it in my office whenever I need to fill out travel documents. And since I also use Google Drive and Adobe Creative Cloud drive, I love how I can open Apple Files, which combines the three services into one app.
Organized notes and lists with OneNote
I'm a big user of Microsoft's OneNote. It's where I create my shopping and to-do lists. It's also where I write my notes during meetings. I use 3D touch to instantly create new lists instead of the usual note format. Whatever I write on my laptop is accessible on the iPhone, and vice versa. It's great.
Office apps on the go
Office apps like Word, Excel, and Powerpoint are all available on iOS, but I rarely use them on my phone. I can't see myself writing long documents or creating spreadsheets on a small screen, but it's good to know these apps are available if I need to view my documents or slideshows on the go. And they're fairly full-featured on iPhone.
Cortana vs. Siri
Pressing and holding the right button on the iPhone X brings up Siri, but, unfortunately, you can't replace it with Cortana. I am still able to use Cortana, and the fastest way to use the assistant is by swiping right from the Home and Lock screen. I don't use Cortana often, but it's handy when setting reminders because notifications pop up on both my PC and iPhone.
From phone to PC with Continue on PC app
Microsoft Edge is also available on iOS, but since Apple doesn't allow me to use it as the default iOS browser, I still prefer to use Safari. However, an excellent tool that you can use is called Continue on PC. It lets you quickly send web pages from the iPhone to your PC. It's accessible from within the share button on Safari. Tapping "Continue on PC" on the iPhone opens the same page on my PC within Edge.
Messaging on multiple platforms with GroupMe
I use several messaging apps, but my favorite is Microsoft's GroupMe. It's available on both Windows 10 and iOS so I can continue conversations on either device. Unfortunately, some of my friends use WhatsApp, while others use Facebook Messenger, and others use iMessage. I wish I ccould convince everyone to use GroupMe ...
Xbox app as TV remote with keyboard
Another app from Microsoft that I like to use on the iPhone is Xbox. While it has several features like buying games, watching recorded game clips, or using as a remote to control video playback, I like using the app to send and reply to messages after playing online games. Typing on the iPhone is much better than typing with the Xbox controller. (My gamertag is @markguim if you'd like to challenge me on FIFA 18, BTW. But I must warn you … I'm pretty good at it.)
Final thoughts
My experience from switching to the iPhone X from Windows Phone was surprisingly painless. I'm able to continue using my favorite Microsoft services, while also benefitting from the iPhone X's excellent camera and vast app ecosystem. Could the experience be better? Of course. I wish I could replace the Siri button with Cortana and change my default browser to Edge. These setbacks are not deal-breakers though, and I think Windows phone users who are considering the switch will be happy with this phone.
Master your iPhone in minutes
iMore offers spot-on advice and guidance from our team of experts, with decades of Apple device experience to lean on. Learn more with iMore!
But first, let me take a selfie.