Advertisement Feature
Learn from the best: MacPaw experts, creators of CleanMyMac X, share their best Mac cleaning tips
With Clean Out Your Computer Day already upon us, ever wondered how the professionals keep their Macs junk free? Here's how…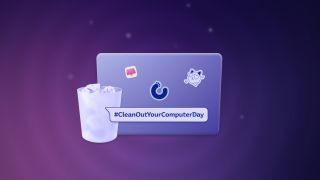 (Image credit: CleanMyMac)
MacPaw founder Oleksandr Kosovan is not your typical tech CEO. Growing up in Ukraine, Kosovan's love affair with tech began early, spending his nights tinkering with refurbished computers. By his late teens he was already a MacHead, reprogramming the Windows-dominated software at his university to be Mac-compatible.
Those wilderness years of Mac-worship paid off with the launch of MacPaw in 2008, along with its flagship product, CleanMyMac.
CleanMyMac X went on to evolve even further from its original iteration as a digital vacuum cleaner. Three times faster than its predecessor, it provides 49 distinct tools in 12 languages and intelligently optimises your machine, removing malware and keeping drivers current, all under an innovative and shiny UI.
With over 25 million downloads across 185 countries, CleanMyMac has been around for 14 years. CleanMyMac X is notarized by Apple and was featured in the app on the Mac App Store.
Clean Out Your Computer Day
The Institute of Business Technology declared National Clean Out Your Computer Day in 2000. Since then, Mac and PC enthusiasts have celebrated this day on the second Monday of February.
Clean Out Your Computer Day is a fine opportunity to clear out dusty folders, outdated files and unwanted screenshots from your hard drive. Here are some cleaning routines and tips from the critically acclaimed team at MacPaw.
1/ How often should you clean your Mac?
Regular maintenance is the key to keeping your Mac in top shape. About 47% of MacPawians clean their machines once a week, with 35% doing so monthly and a whopping 75% claiming digital clutter kills their productivity. There's one thing everyone agrees on: CleanMyMac reminders are why most Macs stay neat and clean at MacPaw.
2/ How can you tell if your Mac needs cleaning?
Chief Technology & Innovation Officer Vira Tkachenko: "Look for both visual (e.g: a cluttered desktop) and performance-related (e.g: apps freeze) signs that your Mac needs cleaning. If you get a notification that your Mac is almost full or low on memory, don't put off a cleanup."
Check for these signs to see if your Mac needs cleaning:
Mac's battery is draining fast
Mac runs slowly or has performance issues
Desktop and downloads are cluttered with files
Mac's overheating
Mac takes longer to start up
3/ What are your top tips for digital spring cleaning?
While tidying up useless screenshots, blurry photos and tons of apps can be tiresome, some MacPawians love Mac cleaning during flights or train rides. What better time to organize your random downloads and too-many open tabs than when you're stuck in a seat for more than three hours?
MacPaw Engineering Manager, Dmytro Tretiakov, shared his step-by-step cleaning routine:
Remove outdated files and declutter your desktop
Check your apps and uninstall those you stopped using a while ago
Scan for Large & Old Files in CleanMyMac X
Run a System Junk scan to remove unneeded cache
Empty Trash
Restart your Mac
4/ Which CleanMyMac X features do you use the most?
While manual cleaning has its place, there are many things that only CleanMyMac X can handle. These are the top five tasks CleanMyMac X is extremely good at (according to the MacPawians):
Mac health monitoring
Cache cleanup
App uninstallation & update
Disk space cleanup
Malware scanning
As for the best CleanMyMac X module, three features were on everyone's list: Smart Scan, Uninstaller, and Large & Old Files. Use these three for a quick junk clear-out.
5/ What are the most common Mac cleaning mistakes?
Cleaning up your Mac yourself. There's a reason CleanMyMac X exists. A professional solution can spot files you may miss when going through your folders manually.
Removing apps by moving them to trash. Sending an app to the Trash may leave lots of app-related and leftover data in your Mac's system. Uninstaller in CleanMyMac X will help uninstall programs completely.
Forgetting about your desktop. Your desktop is like your Mac's junk drawer: it contains lots of items that seem important but are rarely opened more than once.
Moving/deleting system-related files and folders. If you don't know what a specific file is for, it's better to leave it. Use Mac cleaning software that doesn't touch the essential items.
6/ What are the best ways to protect your Mac from malware?
Email Marketing Specialist, Tetiana Kudria, shares the four golden rules she follows to protect herself:
Don't download from unknown sources
Use secure Wi-Fi networks
Change your passwords regularly
Scan your Mac with Malware Removal in CleanMyMac X
Product Manager Pavlo Haidamak, also advises users to be extra vigilant with USB drives. Don't plug unknown drives into your Mac, have anti-malware software installed.
Head of Information Security, Mykola Srebniuk shared one simple tip: don't download viruses. Although this may sound a bit basic, it's not always easy to do. Double-checking apps you download, and links you click can help prevent threats from getting into your Mac in the first place.
7/ What do you do while CleanMyMac X is scanning your Mac?
Smart Scans are thorough but quick. Even so, some MacPawians like taking time out while CleanMyMac X works its magic. Some relax with a cup of coffee while admiring the app's striking animations.
If you're feeling productive it's easy to carry on working while the scan is still running. And as long as you check your Mac for junk regularly, the average scan won't take longer than 15 seconds.
8/ What's your best Mac cleaning tip?
Here are some of the best cleaning tips out there, courtesy of the MacPawians:
Clearing junk is like performing routine car maintenance. You do it occasionally to ensure you won't have problems for a long time
Run cleanups daily. Make this habit stick, so it's like brushing your teeth
Move important documents from the Downloads folder instantly.
Follow a clean desktop policy
Smart Scan = Smart Mac
9/ What's an effective way to clean cat hair out of keyboards?
Macpawians adore their cats, and cats love Macs. You can often find them relaxing on a Mac keyboard. If you have a Mac-loving cat or dog and your keyboard has seen better, less furry days, try these hacks:
You don't need a special device. A Dyson or any other vacuum cleaner will do the trick
Work remotely to avoid office cats
Don't worry. One or two hairs won't harm your keyboard
Make the most of Clean Out Your Computer Day's tips and tricks with CleanMyMac X.
Master your iPhone in minutes
iMore offers spot-on advice and guidance from our team of experts, with decades of Apple device experience to lean on. Learn more with iMore!