Advertisement Feature
The Eufy RoboVac 15C Max takes care of your spring cleaning for you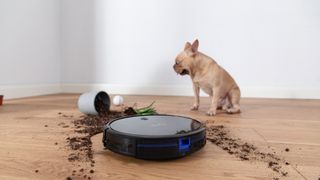 (Image credit: Anker)
Spring is here, and you know what that means — spring cleaning. While the end result of spring cleaning is always good, the actual process can be a bit of a pain. That, however, is exactly where the Eufy RoboVac 15C Max robotic vacuum comes in — taking care of your spring cleaning for you, so you can spend your time doing other things, or simply relaxing.
Robotic vacuums have been around for a while now, but it's only recently that they've started being worth buying. In the early days, the powerful-enough models were too expensive, and the cheaper models were essentially glorified toys. Now, however, you can get an incredible robotic vacuum at a very affordable price.
The RoboVac 15C Max is particularly impressive in this price range, and that's especially true when it comes to raw power. While other models may offer a suction power of up to 1,000Pa, the RoboVac 15C Max steps things up to a massive 2,000Pa. Combined with the three-brush setup, the RoboVac 15C will easily pick up all the dust and dirt in its path. You would assume that this performance would take a toll on the battery — but the good news is that the vacuum can last up to a whopping 100 minutes on a single charge. And, it has a nice, big 0.6L dustbin to hold all the dust and dirt that it can pick up.
Great performance at a low price
One of the best robotic vacuums in this price range

The Eufy RoboVac 15C Max offers incredible performance and a range of smart features at a very reasonable price. With a suction power of 2,000Pa and support for Google Assistant and Amazon Alexa, this is the way to go if you want a robotic vacuum under $300 and want something to help out come spring cleaning time.
The vacuum may be powerful, but it's not loud. It can clean quietly and efficiently in the background, meaning that you can go about your daily routine, and clean other parts of the home without getting frustrated with the noise.
Perhaps even cooler than the vacuum's cleaning performance is how smart it is. The vacuum is Wi-Fi connected, meaning that you can control it with your phone, without having to get up from the couch or even be at home. And, it goes a step further with both Google Assistant and Amazon Alexa support — so if you don't want to use the app, you can simply use your voice instead. With Assistant and Alexa, you can tell the vacuum to start cleaning, to stop cleaning and dock, and more.
But why would you want a robotic vacuum in the first place? Robotic vacuums remove the hassle of having to clean your floors. In other words, if you're good at regularly cleaning your floors, you'll save a ton of time that you can spend doing other things. And, if you're not so good at regularly cleaning, you'll have a cleaner carpet more often — without having to make the effort to clean more.
Convinced? You can pick up the Eufy RoboVac 15C Max for yourself straight from Amazon. And, if you don't need the Wi-Fi connectivity on offer, you can opt for the even more popular RoboVac 11S — or, if you want something to accompany your robotic vacuum and allow you to clean things like the curtains or stairs, the Eufy HomeVac S11 is a great option.
Get more iMore in your inbox!
Our news, reviews, opinions, and easy to follow guides can turn any iPhone owner into an Apple aficionado