Advertisement Feature
A closer look at Caseology's new iPhone 11 lineup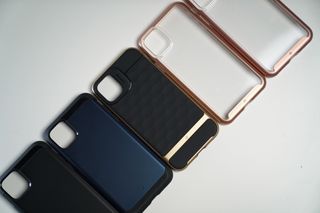 As we continue our hunt for the perfect iPhone 11 case, we managed to spend some time with Caseology's family of cases (opens in new tab). We were trying them out with the iPhone 11 Pro Max, but you'll be able to find all of these available for each iPhone 11 model.
(opens in new tab)
First up, there's the Parallax (opens in new tab). We got the gold version, and dang does it look good. The pattern on the back is really eye-catching, and colored bezel accents the whole iPhone well. The dual layers felt amply protective and hugged the hardware nicely. Overall, a good combination of protection and style.
(opens in new tab)
Caseology Parallax for iPhone 11
The Parallax case brings style and protection in perfect balance for your iPhone 11. Dual layer protection and unique design come together elegantly.
(opens in new tab)
Skyfall (opens in new tab) is Caseology's clear case option. With front and back perfectly clear, the outer bumper is available in either red, rose gold, champagne gold, or matte black colors. This way no matter which color iPhone 11 you pick up, the Skyfall case can accent it perfectly.
(opens in new tab)
Caseology Skyfall for iPhone 11
The Skyfall case maintains the crystal clear beauty of your iPhone 11. Enjoy the peace of mind of daily protection without having to hide your iPhone's design away.
(opens in new tab)
Finally, we've got the Legion (opens in new tab) case for iPhone 11. This is another dual layered case, providing robust protection against bumps and scratches. Despite the two layers, it's slim enough that you can still wirelessly charge your iPhone 11. Cutouts allow full access to all of the important buttons, and a range of color options are available to match whichever iPhone color you roll with.
(opens in new tab)
Caseology Legion for iPhone 11
With a simple, robust design, the Legion case can handle the knocks of life and keep your iPhone 11 running smoothly.
There are a few other options in the family we didn't get to try, like the slim Vault, and the extra-grippy Waterfall. Be sure to take a look at Caseology's entire iPhone 11 collection below!
Editor-at-very-large at Mobile Nations, gamer, giant.
Thank you for signing up to iMore. You will receive a verification email shortly.
There was a problem. Please refresh the page and try again.