Best repair and maintenance apps for Mac: The tools you need to fix OS X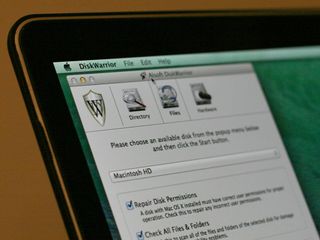 You have a Mac, or maybe you're responsible for taking care of them at your business. You need an toolkit of apps that help you get out of trouble when your Mac's not working right. Maybe a hard drive needs rebuilding or recovery, the memory needs testing, you're desperate to un-delete files, you need to access to deeper system maintenance, or you simply want to better clean out the debris from old apps, there are several tools you can go to. These are my pick for the best Mac apps, and most indispensable tools, you can have.
DiskWarrior 4
Why you can trust iMore Our expert reviewers spend hours testing and comparing products and services so you can choose the best for you. Find out more about how we test.
When it comes to rebuilding and recovering a hard drive that's not working right, Alsoft's DiskWarrior is peerless in the Mac realm. I don't know a single Mac IT professional worth their salt who doesn't swear by DiskWarrior, because it just works.
DiskWarrior excels at rebuilding the directory structure of your Mac's hard drive, and it does so by building a replacement directory instead of trying to patch the existing one. It's a data scavenger, and it's really excellent at its job. Sometimes I've even had success getting data off of physically failing hard drives using DiskWarrior.
Techtool Pro 7
Micromat's Techtool Pro 7 isn't just about recovering files off your hard drive, though it can do that. It can also do a thorough test on your Mac's memory modules to see if there are any RAM hardware failures (they do happen), along with things like Techtool Protection, which can more easily recover files that have been thrown in the trash, and eDrive, which lets you create an extra startup partition on your Mac's hard drive (handy for diagnostic maintenance work). Volume cloning, file and disk optimization (defragmenting), network monitoring and more.
It took until the 7.0.2 update before Techtool Pro 7 started support Macs with Fusion drives installed, but now that it does I feel a bit more comfortable about recommending it as a good option for Mac mavens looking for Mac diagnosis and drive repair software.
Data Rescue 3
Prosoft's Data Rescue 3 is another disk recovery tool. I've had good luck with it recovering deleted files from my Mac's internal hard drive and external volumes. It doesn't write to the hard drive; it requires an external drive to restore files to. The FileIQ feature is particularly handy if there's an obscure file type you want to recover. Provide Data Rescue 3 with an intact sample of the data you're looking to recover, and it'll sniff it out like a bloodhound.
I've had particular luck in the past with Data Rescue 3 getting back deleted or damaged files from camera cards, especially.
OnyX
Because OS X is a Unix-based operating system, you can do a lot more under the hood when you're accessing the operating system from a command line using the Terminal program. But unless you know what you're doing it's really easy to get frustrated. That's where Titanium Software's OnyX comes into play. This free utility gives you access to a huge variety of system maintenance, performance optimization and customization features by adding a graphical user interface to commands that you'd otherwise need to know Unix to be able to do anything with.
OnyX comes in handy when it comes to the deletion of Internet cache files that can screw things up, like DNS and browser caches, or individual system cache files, OnyX is a godsend. You can automate the rebuilding of your Mail mailboxes, Spotlight index and more. You have control over a wide variety of parameters for QuickTime, Safari, iTunes, your login window and more. Just be warned that with great power comes great responsibility: You can really screw things up if you don't know what you're doing. So be careful.
AppCleaner
This simple (and free) utility isn't exactly a repair utility but I'll include it anyway, because it comes in handy when it comes time to uninstall an application. Sure, the Mac makes it a lot easier to get rid of unwanted software than Windows, but don't be deceived — even if you've dragged a Mac application icon into the Trash, that doesn't delete the Mac app's entire footprint. Often times the app will leave behind configuration files, cache folders and other remnants that occupy disk space.
AppCleaner does a serviceable job of locating all the files associated with the app, and provides an index so you know just how much space they're taking up. Once you've got them all accounted for, click the Delete button and banish them forever.
Your list?
Those are my picks. I'm sure you have a few of your own. Let me know what they are in the comments!
Get the best of iMore in in your inbox, every day!
Hah wish you posted this a few days ago it coulda been useful as my mac suffered a bad crash from running with a solid state drive and yosemite
from what i think happened is i had a solid state drive and i love downloading files via torrent well it seems i filled my ssd and had like 5 gb left and proceeded to burn data and then delete files and replace them with new ones seems like i filled the ssd so full it crashed and i lost everything but a file i had made thank god i saved my pictures and about 75% of my documents
with a deep scan i saw as much as 179 gb of data but was not able to recover nor did i care to much to revcover it since i had already gotten about 11 gb of data i had written early on or at the middle of the ssd so thats why i got lucky and still had pics and docs
thank god
as for other recent documents anything not backed up via iCloud is toast and anything thats new on the yosemite is gone to so basically i got lucky so basically i think that some important file got hosed along with the whole file system I would recommend following the guid to enable trim online i think its 3.2.6 trim enabler
also disable the sudden motion sensor that way the computer isn't sending weird commands to the ssd and third i disabled hibernation and made it so the disk are never put to sleep hopefully this fix my problems however a program is reporting that i have 384 of bad blocks on my ssd any insight would be great sorry for my choppy typing. -David

Onyx and App Cleaner are great and I have used them for a couple of years now. I got a copy of Clean My Mac 2 with my Parallels upgrade. It is pretty effective at cleaning out the crap that can build up. I like some of the more advanced features of Onyx better for real deep cleaning and maintenance but Clean My Mac 2 has been my go to for regular maintenance and full app deletion.

I use at least one of these tools daily. Reasons why articulated by Peter better than me. Great work. Making a external Bootable OSX with DiskWarrior is a powerful tool. I'v saved everything from non booting mac to external raid volumes. Magic.

Great list Peter. Thanks Sent from the iMore App

I use Cleanmymac 2
Ccleaner
HD Cleaner
Data rescue 2
CMDQuit
Cleanmydrive
System Lens
And Gemini Sent from the iMore App

I use OnyX and Mac Keeper. They both work pretty well. I have a license for Gemini but haven't tried it out yet.

I agree. I have deleted that thing. I am pretty much just using Onyx these days. I do have App Cleaner to uninstall apps that I don't use or want anymore.

I've used OnyX and AppZapper.

Thanks for the sharing Peter! We use:
-DaisyDisk
-Carbon Copy Cloner
-Gemini
-CC Cleaner
-Cocktail
-MainMenu Pro

Try also App Cleaner and Memory Cleaner X

My favourite is Applejack.
Its actually a small suite of system scripts that you can use when you boot into single user mode ([CMD]-s). I have installed this on hundreds of machine at work. It allows things like disk checking, permission pair, cache cleaning, prefs checking (xml verification), etc. You can do these manually or use AUTO. Because this is on every machine I look after its a go to tool when a machine won't boot (corrupted cache/prefs file). Its free, its reliable,is small ( measure in kBytes !) and from every time I have used it, its safe !

Ha! Was already hoping to learn about a new tool, but great! I have like literally the same list, and in the EXACT same order..,.! Good one! :)

Hi Peter,
I have used both Data Rescue and Stellar Mac Data recovery software for recovering my deleted vacation photos. Although, cost of both the software is nearly same, but I found Stellar Mac Data recovery much faster and reliable software as compared to Data rescue. Also, their customer s support is good.

My MacBook Air is running slower and slower and s l o w e r. What's the best cure?

In late 2016, I have five favorites:
OnyX, Carbon Copy Cloner, AppDelete and TrashMe and FindAnyFile. OnyX works nicely, Carbon Copy Cloner clones the Recovery Partition of macSierra where the competitor's can't, and both AppDelete and TrashMe (uninstallers) have superior algorithms compared to all the rest, mainly because both developers have worked hard to search out the remnants of apps which leave many apps in obscure places including the hidden enmeshed sub-folders of the "private" folder. Therefore, files like receipts, .bom, playlist, sfl files and certain help files are successfully removed where all the rest of the uninstallers available can't or don't. FindAnyFile acts as an adjunct to the uninstalling process by providing a way to search the entire operating system and all the folders based on the user's prudent choice(s) of keywords like the the unique developer's name/appname. If you are careful with FindAnyFile, you can remove every last remnant that even AppDelete and TrashMe cannot, but you need to be somewhat advanced as users go so you don't inadvertently uninstall another app with a similar named file or break an app by the same developer which uses a shared file or folder.

I will add that my using TinkerTool System will do many maintenance jobs but what I like it for best it it searching out and finding and deleting orphan files that other uninstaller had missed
Thank you for signing up to iMore. You will receive a verification email shortly.
There was a problem. Please refresh the page and try again.