Advertisement Feature
Mac and iPhone can get a huge gaming upgrade with NVIDIA GeForce NOW
High-end gaming with a few taps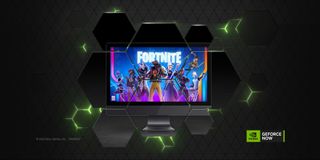 (Image credit: NVIDIA)
There's no question that Apple makes some impressive hardware with the latest generation of MacBook showing remarkable power and portability combined. But the Apple ecosystem is likely not a favorite among die-hard gamers who see little developer support outside of mobile games. However, with NVIDIA GeForce NOW's Ultimate membership, PC gamers can get an extreme PC gaming experience right on their Apple devices.
GeForce NOW is a cloud gaming service. In other words, the games are all run on remote systems hosted by NVIDIA that you can access through an app or even a web browser. Your devices will deliver your inputs to the servers, and the servers will process it all and send the game video feed back to your device in high quality. Since the games are running in a proper PC environment, you'll be playing the full PC version even if you're gaming from your iPhone or MacBook. GeForce NOW includes a library of over 1,500 games, including tons of popular AAA titles and free-to-play games. And you can access many of the games you already own in game libraries like Steam, Ubisoft Connect, Epic Games Store, and more. In other words, you don't need a new system to game or to re-buy games.
So, just how good is the gaming experience? You can start off with a basic, free membership that provides the basics. But with a GeForce NOW Ultimate membership, you can get some major performance upgrades that let you compete with the premium experiences your PC gaming friends are getting.
GeForce NOW Ultimate runs games on NVIDIA's new SuperPODs, which have immense horsepower. The systems are capable of streaming games at 240 fps, delivering super smooth gameplay. With NVIDIA Reflex and a fast internet connection, you can experience low system lag to feel just like you're gaming on a local machine.
The service also supports ultra-wide resolutions, which brings the spirit of PC gaming to Macs and mobile devices. It's also a great fit for mobile devices that are rarely running 16:9 displays these days. And, if you want to have sharp and fast visuals, you can game at 4K and 120fps. With DLSS 3 and RTX ray-tracing, games will look sharp, smooth, and simply stunning.
This experience is available with a membership that costs just $19.99 a month. You could have the service for four years before it adds up to the price of even a modest gaming PC.
While the GeForce NOW Ultimate membership provides the top-level experience for the service, you don't have to start there. You can test out GeForce NOW with a completely free membership that allows for short, 1-hour sessions and basic graphics. An upgraded Priority membership costs just $9.99/month and will let you opt for 1080p/60fps gameplay with ray-tracing, and it will give you quicker access to servers and 6-hour sessions. If you try it out and want even more, the upgrade to the Ultimate membership is a lot quicker and cheaper than the upgrade from one GPU to another.
You can find out more about GeForce NOW (opens in new tab)and sign up here (opens in new tab). For as much as GeForce NOW is offering at the moment, it's always adding more. Every week, the platform brings updates and adds new games to the list. You can find out all about these updates through the GFN Thursdays blog (opens in new tab). You can also follow GeForce Now on Facebook (opens in new tab) or Twitter (opens in new tab).
Get the best of iMore in your inbox, every day!
Your source for all things Apple