iPhone 5 pre-orders start September 14, available on September 21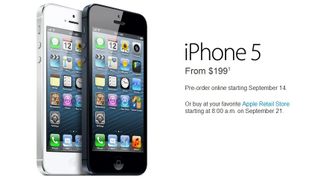 Apple has just announced that it will be taking pre-orders for the iPhone 5 starting Friday September 14. It will be available to buy in-store on Friday September 21.
Countries included in the September 21st release are the United States, Canada, United Kingdom, France, Germany, Australia, Japan, Hong Kong and Singapore. A second phase release will happen on September 28, just one week later and over a 100 countries by December. We'll give you an updated listing of countries as soon as they officially become available.
UK editor at iMore, mobile technology lover and air conditioning design engineer.
What time will it start??

Same question! What time? Midnight tomorrow?? 8AM? Hammertime?

For the 4S, it was 12am Pacific. So, if that holds true, 3am for me on the East coast.

Good call considering the HQ is in Cali. Sheesh it's gonna be a long night tomorrow!

Chris/Rene, do we assume it will start at the normal 6am Eastern time?

I would also like to know this. I don't want to be refreshing my laptop at midnight tomorrow just to find out I've now got to wake up at 5:30 lol!

I have to order 3 phones this year, tis not gonna be easy.

Can't wait to pre order! :)

Yay. Will pre-order the nanosecond the Apple Store's iPhone "Buy Now" button works. And if that takes enormously long (like it did in 2010 for the iPhone 4) we'll try pre-ordering via the App Store app.

does anyone know what time the pre-order will start?????????

I definitely want to preorder on Friday but only if the shipment is set to get to me on the 21st. I really do not want to stand in line next Friday but will if the preorders will only "ship" on the 21st.
Get the best of iMore in in your inbox, every day!
Thank you for signing up to iMore. You will receive a verification email shortly.
There was a problem. Please refresh the page and try again.