Advertisement Feature
RAVPower's PD chargers are just what you need for all your Apple devices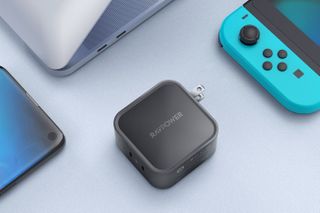 (Image credit: Ravpower)
Apple's iPhones, iPads, and MacBooks can do so much that we're prone to using them all throughout the day until we burn through their massive batteries. When it comes time to charge up, we don't want to get caught up waiting on a slow charger or get stuck carrying around a massive power brick. RAVPower's line-up of potent PD faster-chargers can solve all of that with compact sizes that disguise their incredible power delivery.
RAVPower PC132 30W USB-C Fast Charger
Get up to 30 watts of faster charging capability in a compact charger with USB-A and USB-C ports.
Take the RAVPower PC132 USB-C Fast Charger for example. It's only 1.18 inches thick and less than two inches tall and wide. Despite that size, it offers a mighty 30 watts of power between its USB-C and USB-A port. With it, you can rapidly charge two devices at the same time. The USB-C port's 18 watts are even enough to keep a 2018 iPad Pro topped up. That's a lot of capability out of a charger, and it only costs $15.99 (compare that to what Apple charges for its own charging bricks).
RAVPower 65W PC133 PD GaN Fast Charger
Charge your phone, your tablet, or even your laptop at high speeds with this chargers 65 watts of power.
If you've got a MacBook or the newest iPad Pro in your bag, you may want something even beefier, and RAVPower has you covered there as well. The RAVPower PC133 charger also features a pair of USB ports, one USB-A and one USB-C, and manages to keep a similarly small form factor while delivering a total of 65W. It manages that with PD GaN technology, which lets chargers stay smaller, lighter, and cooler while delivering serious power. The USB-C port on its own is capable of 60W charging, which can fully recharge a 16-inch MacBook Pro in just 2.1 hours.
RAVPower PC128 90W PD GaN Fast Charger
This charger is small enough to slip in your pocket, but has enough power to charge even two laptops at the same time.
For the most demanding portable setups – perhaps a MacBook Pro with the new iPad Pro running as a secondary display – RAVPower has another charger that's more powerful yet. The RAVPower PC128 charger is a monster, but you wouldn't know it when you saw it's compact 2.5 x 2.5 x 1.2 inch size. Once again using GaN technology, this small power brick is able to pump up a total of 90 watts – enough to fully charge a 15-inch MacBook Pro in 1.7 hours. It can push it all out through one port or let the two USB-C ports share the capacity, letting you charge two laptops at 45W each or perhaps your laptop at 60W and your tablet at 30W.
Whatever your charging needs, RAVPower has powerful options available that can deliver fast charging to two devices at the same time while staying smaller (and likely more affordable) than the options you'd get from Apple. So, be sure to check out the chargers mentioned or head over to RAVPower's store page for even more options.
Get more iMore in your inbox!
Our news, reviews, opinions, and easy to follow guides can turn any iPhone owner into an Apple aficionado
Your source for all things Apple