Advertisement Feature
The iPhone 13 deserves Spigen's smart and sleek accessories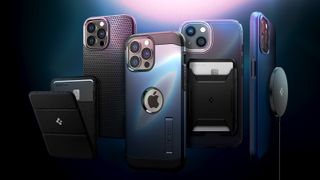 (Image credit: Spigen)
Every shiny new phone we buy comes with the tinge of anxiety over how we're going to keep this expensive purchase safe. We've all had that moment where we think we've got a good grip but somehow the phone slips out of our hand, and in an instant our brain imagines all the different ways it could land or bounce and end up damaged. Really, all it takes to put that anxiety to rest is the right accessories for your devices. And, with Apple's recent launch of the iPhone 13 lineup, Spigen is ready to let you enjoy your new phone worry-free.
Each new iPhone comes with an upgrade to Apple's style and aesthetics as well as the technology on board. The iPhone 13 lineup is simply a continuation of this. Given the style and capabilities, you may want accessories that are just as smart and sleek. Spigen's broad range of cases and accessories (opens in new tab) provide a little something for everyone, whether you want a case for your phone (opens in new tab), protection for your Apple Watch (opens in new tab), or wireless charging and MagSafe accessories (opens in new tab) to add a little convenience to your life.
Cases for all the places you'll go
Spigen has a variety of cases to suit our style and needs. Whether you want something tough and utilitarian, something that'll let your new iPhone show off, or something in between, Spigen is ready.
Spigen's Tough Armor (opens in new tab) case will let you go about your day without worry. Its foam-lined protection and raised edges will keep your iPhone 13 safe even on rough-and-tumble days. Better still, you can enjoy that protection without having to make it look like your phone has been fitted into a tank.
Spigen's got a few even more subtle options as well. The Ultra Hybrid S (opens in new tab) lets you show your style, as its clear design all around won't hide the color of your iPhone. A special Blue Resin material keeps that case from yellowing, so your phone's color comes through for the long run. The Liquid Air (opens in new tab) case goes on thin while adding a simple triangle pattern to the back for a touch of style. Meanwhile, the Thin Fit (opens in new tab) case doesn't add much bulk but beefs up the protection of your iPhone, so it can still slip into your pocket easily but stays safe if it slides out accidentally.
Spigen's new Mag Armor (opens in new tab) and Ultra Hybrid Mag (opens in new tab) cases help the MagSafe technology in the iPhone 13 get in on the fun. These cases can align neatly with the magnets in the iPhone 13 for a secure fit while also ensuring other MagSafe accessories still attach firmly to your device.
The sleek style of all of these cases let your iPhone keep doing its thing, and they're even thin enough to continue allowing wireless charging. Plus, since they're available now, Spigen can have your iPhone 13 protected just as soon as you get it.
Don't forget your accessories
If you want to round out the protection for your electronics, Spigen's new Rugged Armor Series for the Apple Watch will help kit you out. The Apple Watch case (opens in new tab) gears up your watch for adventure, keeping it safe from the harsh realities of the world so it can continue to look clean and polished when you're wearing it for more formal occasions.
Gear to help you go the distance
There's more to think about than just your iPhone 13 and you on the move. Without a charging brick included with the iPhone 13, you need a way to get topped up before you head out for the day.
You can keep charged a handful of ways with Spigen's solutions. You can plop your phone down for convenient wireless charging using the ArcField Wireless Charger (opens in new tab). If you like the speed of wired charging, you can get a quick boost using the ArcStation Pro (opens in new tab). When you like to have your phone handy to check at your desk but want it to keep charged all the while, the OneTap Pro (opens in new tab) gives you an elevated place to set your phone with MagSafe to hold it up and provide wireless power at the same time.
Spigen can even keep your pocket bulge down by letting you skip a wallet altogether. Spigen's Rugged Armor Mag Wallet (opens in new tab) lets you snap your credit card and ID onto the back of your phone for a sleek setup that puts all your essentials into just one pocket.
Since Spigen's lineup of accessories (opens in new tab) are available now, you can get your gear all ready while you wait for your new iPhone 13 (opens in new tab), or Apple Watch (opens in new tab) to arrive.
Get the best of iMore in in your inbox, every day!
Your source for all things Apple
Thank you for signing up to iMore. You will receive a verification email shortly.
There was a problem. Please refresh the page and try again.