T-Mobile adds 11 more streaming services to Music Freedom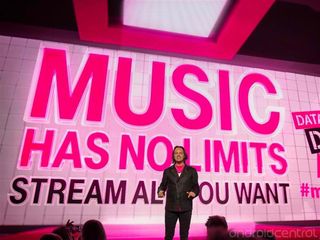 If you're in it with T-Mobile for the music, you now have quite a few more options for getting your fix. T-Mobile has added 11 more streaming services to Music Freedom, allowing you to use them without eating into your data allotment. Here's the rundown of services hitting Music Freedom today:
Aud.io
Dash Radio
DatPiff
Jango
KCRW
Noon Pacific
Radio Danz
SomaFM
Spinrilla
StreamOn
TuneIn Premium
With the addition of these 11 services, Music Freedom now covers a total of 44 options, and there are sure to be more on the way. T-Mobile also says that its customers are now streaming more than 196 million songs per day, which is up 311 percent from when Music Freedom was first launched. Is one of your favorite streaming apps in this batch? Are there any you're eagerly awaiting? Let us know in the comments below.
Source: T-Mobile (opens in new tab)
Get the best of iMore in your inbox, every day!
Man since streaming music makes up pretty much all of my data usage I guess I can downgrade my family data plan now

Regarding TuneIn. Do only the paid "TuneIn Premium" accounts count towards Music Freedom vs the free TuneIn?

Got Tunein now they just need to add Amazon and I am 100% happy Sent from the iMore App

Since this has been out for a while with other services - does anyone have any experience with how much data is consumed with Music Freedom? What I mean is: The music stream is "free" but the related images, metadata, and other bits and bytes related to providing the app experience are not (to my understanding). So... if you stream a few hours of music you will still consume at least some data - my curiosity is "how much (on average)"?

Yes they listened!!! I asked for Datpiff and I got it!! Now I got mixtapes!! Woo Hooo!!