Verizon's disaster readiness is an impressive combination of hardware and manpower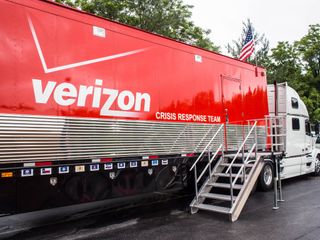 Our data and communications networks, both physical and wireless, are parts of critical infrastructure with lasting consequences when we can't access them, especially during a disaster situation. When they aren't busy showing you speckled red maps and boasting superior coverage in the US, Verizon Wireless is pouring money into backup plans and emergency preparedness scenarios that involve every aspect of the company. Verizon has a team dedicated to planning for the worst, and the team has proven themselves many times in the past as more than just a team that works to restore wireless and landline communications.
Over time this team has developed the resources to offer aid to first responders, and in some situations has even been fully deployed before those emergency teams have been able to assemble aid stations for civilians. Recently we were able to take a look at some of the planning and hardware that goes in to making this possible, as well as talk with the folks who go into these disasters ready to lend a hand.
"As far as I'm concerned, when a disaster strikes somewhere every Verizon employee is available to me to help there." Tom Serio, a Manager in Verizon's Crisis Response team, said as he started his presentation this week to a room full of government agencies from Maryland, Virginia and the District of Columbia. He meant it, too. When Hurricane Sandy struck New York and New Jersey in 2012, Verizon Wireless stores opened back up well before the surrounding areas had recovered, and those locations were immediately turned into shelter-like safe zones for people to charge their devices and take advantage of whatever resources the location was able to pull together, even if that was just air conditioning and bottled water. At the same time, Verizon's teams are working with first responders — fire, police and other emergency services — by handing out phones, tablets, and MiFi units to those who need them. This is a procedure Verizon and other operators have repeated all over the U.S., and occasionally includes flying in volunteers from other areas to help restore an area to a functional state.
There isn't always an unaffected Verizon store conveniently located in the middle of all the chaos, so the company has put together a fleet of vehicles to deal with that. If you're familiar with extended deployment plans for mobile carriers, you're probably familiar with Cell on Wheels and Cell on Light Truck vehicles — affectionately shortened to COWs and COLTs by the folks who make and use them — but Verizon's fleet goes well above and beyond portable generators and mobile cell towers. In a crisis situation, the company is able to rapidly deploy massive trailers and temporary structures filled with workstations, mobile communications systems, and even lighting and surveillance equipment to help establish a functional basecamp for first responders.
Image 1 of 6
The first vehicle we were shown earned the title "Big Red" for several obvious reasons. It's a massive 44-foot trailer on the back of a tractor-trailer, with a generator the size of a small car powering 50 workstations inside. A massive dish sits on top to connect the trailer to Verizon's network if it is down in the area, allowing it to serve as a functional base of operations even when everything in the surrounding area has been destroyed.
Verizon demonstrated how these workstations have been used for everything from FEMA paperwork stations and temporary workstations for police officers to temporary offices for displaced workers that need to check in and charge their hardware. The workstations themselves are simple but effective, offering power outlets and USB ports with an HP Chromebook and a telephone for anyone who needs them.
Image 1 of 5
Because it's not always easy — or possible — to get this massive vehicle into a disaster area, Verizon's crisis trailers help fill in the gaps. While these serve a similar purpose, their design is a lot more modular. The trailers are deployed with a rigid tent attached to the side, which is designed to either stand alone as a single structure or have many other tents added on depending on what the need is at the time.
The trailer portion of the structure has similar workstations for folks to walk in and use, but the external floodlights, HD cameras, and massive light balloon designed to fill the surrounding area with light offers some additional functionality as a base of operations for first responders. These tents are also temperature controlled with a portable heating and air conditioning unit, so Verizon can quickly deploy a safe and comfortable office space for emergency crews or displaced civilians to work and rest out of.
Image 1 of 2
As impressive as the community outreach and physical presence in an emergency is to see, the people Verizon puts on the ground to deal with damage to their equipment are well worth mentioning as well. For example, Verizon's Major Emergency Response Incident Team — MERIT for short — is comprised of Hazmat professionals who are capable of rapidly deploying to an area and coordinating with existing emergency teams to mitigate damage and restore fiber connections as quickly as possible. Many of the folks on the MERIT team are Firefighters by day, and when Verizon calls them in they deploy those same skills to ensuring the safety of those involved in a crisis situation.
This represents a small portion of what Verizon has ready to deploy in the event of a disaster. It's an impressive offering to say the least, and the company is constantly working on new ways to improve the response time and availability of these teams. It's the kind of thing you never want to need, but at the same time it is incredible to see what happens when a company as big as Verizon steps in and lends a helping hand.
Get more iMore in your inbox!
Our news, reviews, opinions, and easy to follow guides can turn any iPhone owner into an Apple aficionado
Russell is a Contributing Editor at iMore. He's a passionate futurist whose trusty iPad mini is never far from reach. You can usually find him chasing the next tech trend, much to the pain of his wallet. Reach out on Twitter!