Advertisement Feature
Western Digital makes it easy to keep all of your family's photos in one place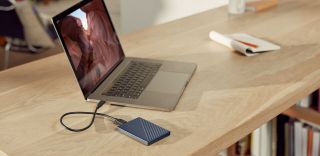 (Image credit: WD)
If you're anything like me, you probably have thousands (or tens of thousands) of family photos spanning many years at this point. Since the cameras in our pockets got good enough to take high-resolution photos and videos, we've all begun capturing many more precious memories, though with better image quality comes the need for more storage space!
WD® is a name you're likely familiar with. It makes a ton of storage products, many of which can help you store, backup, transport, and safeguard your photo library.
If your main computer stays in the same place most of the time — say, a desktop PC or a laptop that gets used primarily at a desk — you could benefit from a high-capacity desktop drive like the WD's My Book™ desktop storage line. These drives need their own power supply, rather than being powered by your computer's USB port, so they aren't as portable but they do give you a lot of storage space for your money.
Store your photos
WD's My Book™ desktop storage
The My Book™ desktop storage from WD provides secure, stable backup for all of your important files. 256-bit AES hardware encryption keeps those files secure, while the included WD Backup and WD Security softwares allow for easy management of everything stored on the drive.
The 10TB* My Book desktop hard drive from WD, for example, is available for $219.99. Having a larger desktop hard drive makes it really easy to store all of your photos in one location and keep them all organized.
Another option worth considering for at-home storage is WD's My Cloud™ Home personal cloud storage line. These are available from 2TB to as much as 8TB* in capacity and allow you to access your photos from all of your devices.
The My Cloud Home from WD does exactly what it says — acts like your own personal cloud. It's sort of like network-attached storage but not as technical and easier to use. It's a central place to store all your data, and it's so easy to set up so you can do it from your phone. You can access it on the go with a mobile app, your desktop, or the My Cloud website. It also has automatic backup for your photos and videos and a USB port for quick data transfers.**
If you want to be able to take your photo library on the go or and connect it to various computers as needed, a portable drive might suit your needs better. WD's My Passport drive offers capacities as large as 5TB*, and with prices starting at $59.99 MSRP (1TB model), it's easy to see why. These provide an easy experience while using, and are available in a variety of colors.
Speedy storage
Enjoy the portability and speed that the new WD brand My Passport SSD has to offer. It can help you keep important archives with you no matter where you go. Quick transfer speeds allow you to offload whatever you need to, and keep moving forward.
There's also an SSD version of the My Passport™ portable drive which offers faster transfer speeds — ideal when you're moving a bunch of large photo and video files around. The drive features read speeds up to 1050MB/s*** and is compatible with both USB-C and USB-A.
Of course, WD has a wide variety of storage products that can help you keep all of your family's photos in one place, so be sure to check out WD's site for all of the options.
* As used for storage capacity, 1GB = 1 billion bytes and 1TB = one trillion bytes. Actual user capacity may be less depending on operating environment.
** App or Cloud account registration may be required. Apps and Cloud services may be changed, terminated or interrupted at any time and may vary by country.
*** As used for transfer rate, 1 MB/s = 1 million bytes per second. Based on internal testing; performance may vary depending upon host device, usage conditions, drive capacity, and other factors.
Product specifications subject to change without notice. Pictures shown may vary from actual products. Western Digital Technologies, Inc. is the seller of record and licensee in the Americas of SanDisk products.
Get more iMore in your inbox!
Our news, reviews, opinions, and easy to follow guides can turn any iPhone owner into an Apple aficionado
Your source for all things Apple