iPad Air 3 launch reportedly set for March event, smaller iPhone 5se might tag along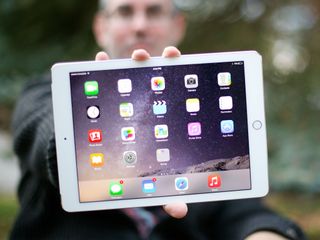 According to a new report, Apple may introduce the iPad Air 3 at an event in March. More specifically, 9to5Mac reports that Apple is eyeing March 14 as a possible date for an upcoming event where it is expected to reveal a new iPad Air, potentially alongside the rumored 4-inch iPhone 5se and new Apple Watch bands.
Details surrounding what we may expect in an iPad Air 3 are light, but an alleged leaked schematic of the updated 9.7-inch tablet revealed earlier in the week points to the inclusion of four speakers and a camera flash. Additionally, 9to5Mac reports that Apple is testing versions of the 9.7-inch display on the iPad Air 3 that are compatible with the Apple Pencil.
As always, it's best to keep in mind that nothing is official until we get word from Apple. However, if things pan out, it looks like we might see an overdue update for the iPad Air 3 along with a smaller iPhone and more in mid-March.
If the iPad Air 3 supports Apple Pencil, what makes the iPad Pro special then? They both run the same software. Yes, there are better specs on the Pro, but the software experience is EXACTLY the same. Posted from my Nexus 6P

Like MacBook Air vs MacBook Pro? Same OS....bigger screen and higher specs. Sent from the iMore App

How about the giant screen? Seems like a pretty important selling point for those who find that feature important. Sent from the iMore App

Yeah the bigger screen is a plus for people who want it.

Agree wholeheartedly. The traditional 9.7" iPads have never been fun to draw on. The screen just wasn't quite large enough. Im pretty sure at some point we will start seeing additional software features across the iPad lines to further differentiate them. There is no comparison on hardware.

Depends what they do with that magnetic side port
I think the os update might throw in some interesting differences too, hopefully Sent from the iMore App

No, the specs and performance will be better on the iPad Air 3. That's the problem. Sent from the iMore App

Now you're talking. I want a pencil, but I'm not sure I want a laptop-size iPad to use it on. And I definitely don't want an iOS laptop replacement. I hope this is true, and can't wait to get one.

Apple sometimes likes to mix up tech improvements across products and iterations. Im thinking 3D Touch on this iPad, but no pencil (so as to keep a strong difference with the iPad pro). Then the next iPad Pro gets 3D-Touch too, and the iPad Air 4 get the pencil. .....and the iphone 9s gets OIS hahaha :D

I have iPad Air 2, and I use it more than my Macbook Pro for my school work. I will be completely sold for the iPad Air 3 if they support Apple pencil. I love its size and as a student, Apple pencil will be a great tool for me. Without Apple pencil, I will keep the iPad Air 2 for at least two more years, since it has future-proof specs and works extremely fast. Sent from the iMore App

I originally bought the air 2 to use as a notepad at the office in addition to our corporate software.... Big mistake. New screen tech in the air 2 doesn't let active stylus' work. Needless to say, I was pretty ****** when they announced the pencil would only work with the pro. Waiting on a jot script 2 which allegedly works with the air 2. If it doesn't then I would definitely invested in a air 3 with pencil

I heard they're working on a 4K screen for the air 3...who knows though. Sent from the iMore App
Thank you for signing up to iMore. You will receive a verification email shortly.
There was a problem. Please refresh the page and try again.