Apple reportedly preparing 9.7-inch iPad Pro instead of iPad Air 3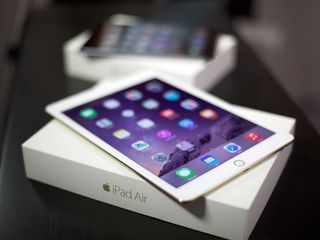 While Apple's rumored upcoming 9.7-inch tablet was thought to be called the iPad Air 3, a new report claims that it will actually be joining the company's iPad Pro lineup. The tablet is said to feature the same processor as the the 12.9-inch iPad Pro, along with support for the Apple Pencil and a smaller version of the Smart Keyboard accessory that first debuted in fall 2015.
From 9to5Mac:
The new 9.7-inch iPad has previously been rumored to feature the same four-speaker setup as the current iPad Pro as well. The tablet is also said to be launching alongside the rumored iPhone 5se, Apple's new 4-inch iPhone, which will also reportedly debut on March 15.
Get More iPad
(opens in new tab)
Joseph Keller is the former Editor in Chief of iMore. An Apple user for almost 20 years, he spends his time learning the ins and outs of iOS and macOS, always finding ways of getting the most out of his iPhone, iPad, Apple Watch, and Mac.
Soooo. . . It's an iPad Air then?? I don't get it, all they did was just summarized all the rumors that have been dropping over the past few weeks. Yes, it seems like that's what was expected of a next gen iPad Air. Yes, there was a mention of 4 speakers, A9X, and there was a mention of Apple pencil and keyboard support somewhere. The only possible thing that I don't think was rumored was the possibility of 4 GB RAM. Is there something I'm missing here??

It makes sense for Apple to bring iPad Pro features to the 9.7" model, so I guess by so doing they could label or as the smaller version of the Pro. Altho I'll just wait for the big announcement by Apple themselves before jumping on the bandwagon here.
We'll know soon enough...

My bet.. Apple is getting ready to shift pricing on the Air lineup downward to encourage swifter sales while creating the new Pro lineup at higher price points (and margins) We'll see iPad Air lines drop down between $400-450 for base line iPad Air 3 this fall. iPad Pro 9.7 will come in at around $550-$600 for base model. Seem's like it's time for price adjustments when they bring in new lines.. could be wrong. Thats what happened when they introduced new Retina's, and when they introduced new SSD only Airs.. 2016 is likely the year of product line adjustments in price and model changes.

and at $549-$599 starting price you will still get 16GB, which is useless, so that means starting price will actually be $649-$699 for the 32 or 64GB version. likely only 32 for that price. which puts the 128GB $849-$899 for WIFI only models. of course adding $130 More for cellular models.

Currently, iPad Pro has a baseline 32GB of storage. So I'm confide that the 9.7" iPad Pro will start at 32GB of storage.

wait and see. Apple and 16GB is here to stay. iPhone 7 will also Still start at 16GB. I will bet money on it.

No, new reports are that Apple is doing away with 16 gig and the starting point will be 32 gig, sorry Hater.

You're sourcing this on a rumor??

I think you are right, but it doesn't seem like a good long term move to me. The essential problem with iPad sales is that most uses are "casual" (games, videos), and thus the iPad lines are not a good value equation for the average user. Wildly expensive prices for an (admittedly nicer) tablet when a 100 dollar model will do the same thing is a hard sell. Here, as you say, they are creating a "Pro" line at a higher price point, but the differences between a "pro" and a "regular" iPad are actually pretty minor. Arguably, what is needed is a more inexpensive iPad model reflective of the casual uses they are generally put to and the long upgrade cycle. "iPad Pro" will work for them in the short term in terms of driving adoption at higher price points, but it doesn't solve the underlying problem with sales. It's a short-term fix. At some point, they either need to create a more affordable, "non-pro" model or they need to get serious about making the Pro model something that can actually be used for work. Right now it's just a regular iPad with a Pencil and slightly better speakers.

Because iPad Pro is a big failure Sent from the iMore App

A single quarter of iPad Pro sales exceeds the total of all Microsoft Surface tablets ever sold...troll. Although last I checked the Surface was selling at a brisk Zunian pace.

Please post a link to that stat, because it's BS.

shhhh, let the delusional argument continue :)

Ha Ha, shut the HATERS UP!!!

It's like most Apple products: The first generation is rarely worth the price of admission. It's okay to speak ill of it I guess, it's not QUITE dead... Sent from the iMore App

A down vote for honesty? Look, the current iterations of the iPad Pro along with the Apple Watch are only for those who like to be first. End of story. Are either of them a disaster? No. They are but a shell of what they are going to be in the second or third generation. You can check back on the history of the iPhone and all the features it was missing that other phones already had, to know that this is typical Apple. Late, but kinda on time. Not an insult just fact.

You are speaking "inconvenient truths" on a rabidly pro-Apple site. The truth (and differing opinions) are generally not wanted here. :-) I get this all the time. I'm actually very pro-Apple, but because I dare to point out the downside from time to time, I am somehow just an "evil troll" and "negative." iMore is all about sweetness and light and not so much interested in facts and opinions.

I see said the blind man...

Goodbye iPad Air. Hello mini iPad pro.

I'm normally a bastion of scepticism towards Apple's recent decisions, but I'm actually 100% pleased with this possibility. If the described iPad is the one they unveil March 15, then I'm in. 32gb + pencil. :)

I was just going to buy a Samsung Tablet A for the S-Pen ability. Easy purchase. Sent from the iMore App

Said no one... Sent from the iMore App

I'm a pure Samsung guy and I would be the first to tell you that the Sammy Tab A is the furthest thing from Pro and is not even a good pen experience when compared to the Note line up. It's a budget tablet.

I appreciate the heads-up. Love the Note 4/5 stylus but really want to sketch on a tablet. Sent from the iMore App

My guess is all the future iPads will be "Pro" models.

Kind of begs the question though as to what a "non-Pro" iPad is. If the whole line is "iPad Pro" then where is plain old iPad? Are they going to introduce a cut-rate plastic iPad for "regulars"? Or maybe leave the iPad mini as the only remaining "iPad"? My guess is that you are right, and that the "Pro" is just another stupid marketing gimmick name that essentially means nothing, differentiates nothing and will eventually be applied to the whole line.

I thought that the "Pro" lineup is just for that bigger display.
Is "Air" dead now? Sent from the iMore App

I like the idea a lot, 12,9' being way too big for me as a tablet (Id rather have a more productive laptop at this size and price point)., however I may not like the price. I know all these iPad Pro features are here to add value for the buck, but I really dont see myself dishing out smth like 800 euros for a 64gb tablet.

Throw in a trackpad and I'm sold. Posted via the iMore App for Android

That doesn't work, iOS is made for touch-screen input, not mouse input

iPad Air Pro? Or iPad Pro Air?

About the missing IR blaster in the Apple devices, I have a solution for that. It's a Kickstarter campaign soon to be launch. All iPhones, iPods and iPads ate supported, and then you will have the IR blaster even on an Apple device. That way you will enjoy the wonderful Apple and still have IR in your smartphone. So iPhone users, don't be disappointed because lacking IR blaster. Go and check it out here:
eyekickstarter com

We don't need gimmicks like IR blasters fandroid, go to an Android site or forum that care about that stuff because we don't need it on iPhone. Sent from the iMore App

My friend, this is nothing to do with Android, it's just so handy thing.
You will not believe how much it will improve convenience in life.
Get the best of iMore in in your inbox, every day!
Thank you for signing up to iMore. You will receive a verification email shortly.
There was a problem. Please refresh the page and try again.