Why I'm getting the 9.7-inch iPad Pro instead of the 12.9-inch one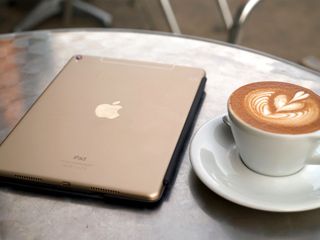 The 9.7-inch iPad Pro, Apple's newest addition to its tablet line, is almost an exact internal replica of its big brother, the 12.9-inch iPad Pro. Why am I going for the smaller Pro? Size matters.
See at Apple (opens in new tab)
Smaller = more portability
The primary reason I'm buying a new 9.7-inch iPad Pro is the same reason why I didn't buy the 12.9-inch iPad Pro last year: portability. A 13-inch tablet is just too much real estate for my needs. I have yet to trust the iPad to do the work of my laptop (although iMore Managing Editor Serenity Caldwell proves it is possible), and the only reason I have for needing a larger screen is to do work that requires a more useful computing device. For now, if I need the benefits a 13-inch screen provides, I'll use my MacBook Pro.
That brings me back to the portability factor. If I'm on a trip and I know I'll be working hard on my MacBook Pro, I'm not going to want my tablet to take up too much additional space in my bag. If I owned a 12.9-inch iPad Pro, I'd probably leave it behind whenever I took my MacBook Pro — too many devices with similar bag footprints weighing down my carry-on. In contrast, with the 9.7-inch iPad Pro, I can take both and not feel either is redundant.
Smaller = better camera features
Apple has added a few features to the 9.7-inch iPad Pro that aren't available on the 12.9-inch iPad Pro — primarily ones that relate to the camera. The iSight camera on the smaller iPad Pro is 12 megapixels, as opposed to the 12.9-inch iPad's 8-megapixel sensor, and the Facetime camera is 5MP rather than 1.2MP. In addition, the Baby Pro can record and play back 4K video at 30FPS. That makes the quality of the tablet's camera as good as the iPhone 6s.
Say what you will about shooting photography with an iPad, but the truth is, lots of people do it — myself included — and with a huge viewfinder, capturing 4K video on an iPad Pro is almost like looking at an HD professional monitor on a film set.
Smaller = lower cost
I try not to think too much about cost when purchasing Apple products; I'm happy to pay a premium for great hardware. When the 12.9-inch iPad Pro first launched, however, I just couldn't justify paying the same price for a tablet as I could for a laptop. It seemed like overkill.
In contrast, the 9.7-inch iPad Pro starts $200 cheaper than its larger counterpart — and just $100 more than 2014's iPad Air 2. $599 is still a hefty chunk of change, but it's much closer to the kind of change I'm willing to shell out when it comes to tablets.
At its core, the 9.7-inch iPad Pro feels a lot like an updated version of the iPad Air. I could probably get away with calling it the iPad Air 3, but I won't — mostly because I like Serenity's "Baby Pro" moniker too much.
Let's not forget about the new True Tone system
True Tone is the one brand-new feature that Apple debuted with the 9.7-inch iPad Pro. It's not yet available on any other device, including the iPhone 6s. And call it silly, but I really get a kick out of having a feature that no one else has.
The feature is a lighting display system for the smaller iPad Pro that adjusts your display depending on the lighting and color in a room. It uses two four-channel sensors to measure ambient light and color, then automatically tunes the white balance of the screen to your surroundings. Apple claims the feature brings a more natural "paper-white" viewing experience to the iPad, which could be something special indeed: Many of us have been staring at harsh blue digital screens for so many years, we often forget the feeling of resting our eyes on paper affected by natural light.
What it all comes down to
My 32 GB Rose Gold 9.7 iPad Pro (which will match my iPhone SE, natch) will be on my doorstep March 31. Portability won this round of decision-making for me, but price and a better camera didn't hurt the baby Pro's prospects, either.
What is your preference? Do you think the 12.9-inch iPad Pro is the perfect size, or will you be getting the Baby Pro? Let's discuss in the comments!
And if you're looking for more iPad Pro reading, you can also check out Serenity's reasons for sticking with the bigger model elsewhere on iMore.
Get More iPad
(opens in new tab)
Lory is a renaissance woman, writing news, reviews, and how-to guides for iMore. She also fancies herself a bit of a rock star in her town and spends too much time reading comic books. If she's not typing away at her keyboard, you can probably find her at Disneyland or watching Star Wars (or both).
I believe if you're looking for portability, the 9.7 iPad Pro is the correct answer. But if you're looking for a fluid and future-proof iPad Pro, then you must get the 12.9 iPad Pro with 4 GB of RAM. I am still confused whether I downgrade from iPhone 6S to iPhone SE and get an iPad Pro with or stay with my 6S and have a taste of both worlds.

Future proof? 12.9" iPad pro doesn't offer a full range of app support and probably never will. 9.7" doesn't have that problem. iPads are out dated each year. Why would you worry about bring future proof?

On top of the fact that the extra memory is more for the higher resolution the 12.9" iPad provides.

I am getting the 12.9" ipad pro. I like the screen real estate and the 4GB of ram it has. This will be a huge help in multi-tasking compared to 9.7" pro. The camera system isn't that important to me on an ipad. Also fast charging on the 12.9" ipad pro is a must and the 9.7" doesn't have that feature. If apple would just combine all the features of both then we would have a complete product at both sizes 12.9" and 9.7".

I ordered the 9.7", yes the 2GB of RAM bums me out a bit, but that 12.9" is just too large for my needs. I own an iPad 2 and iPad 3, so I'm looking forward to the speed bump and the newer tech in the 9.7 Pro regardless. Glad to see someone else agrees with me, Lory

My thoughts exactly... I took a look at the 12.9" iPad Pro, but it was too big for what I want in an iPad. The 9.7" form factor really is perfect. I have an older iPad 2 and an iPad Air. The iPad 2 is getting too slow even for casual games for the kids anymore. Likewise, I'll pass down the Air to the kids. I'm excited about the A9X, but REALLY disappointed in the 2GB memory. The reason being... If Apple wants to attract pro level apps, they need to have truly pro level iPads. The A9X helps that in a big way, but CPU/GPU speed is only half the equation. Pro apps need more memory. I would have much preferred if Apple kept the older camera and gave this device more memory instead.

Without a doubt the 9.7" Pro for the same reasons you mentioned. Anything larger and I'm grabbing my laptop. Anything pricier and I'm buying a laptop. I'll be upgrading from and 1st generation Air. Sent from the iMore App

I ordered the Baby Pro, too. That size still fits in several of my purses, so it's great to take along where I know I'll want it. Besides, I'm retired and spend a lot of time at home, where I have my Mac nearby when I need a bit more power or capability. That Daddy Pro is just too big for my needs, though I know it's perfect for many people.

Just 32GB of storage? That is indeed a Baby Pro.

As much as Apple charges for everything, there should not even be a 32gb option anymore.

I got the big bro pro, so its not cost effective to get the smaller one right now...
But if i could, id do it yesterday. Portability matters for school and travel. Matters a lot.

I'm getting the iPad Pro 9.7 because it supports Band 12. Which the iPad Pro 12.9 should have come with from the beginning. Sent from the iMore App

If you're one of those people walking around taking pictures with a gigantic iPad, then you're a lame *********.

So I'm lame because I utilize a feature of my iPad? I'm glad you're not an influential person at Apple.

I went with the 9.7 Pro for the reasons you mention (specifically, size). As an artist, the ability to draw/paint and write (without a perpetually disconnecting Bluetooth keyboard) is huge. The 12.9 had my interest at launch, but after playing with it in the Apple store, it was just too big. I'm upgrading from an iPad 4 so this should be a good bump for me. ....and, although I have to admit that I've often teased iPad photographers, I fear this might make me into one ...at least temporarily (I still have iPhone 6 Plus so the iPad Pro 9.7 camera should blow it away). Good read! Thank you.

As someone with a 32 GB iPad air 1, your biggest mistake won't be going with the 9.7 over the bigger pro, but to go with the smallest storage tier. Once you start really using it, it SUCKS to be at 32. Even though I currently have about 5 GB free, the whole iPad feels painfully sluggish.

I ordered the Baby Pro for the same reasons you wrote about. I travel a great deal and the larger Pro seems like too much in addition to my laptop in my briefcase. With the Baby Pro, it will fit in my purse and lighten my briefcase load.

9.7 Pro model with 128 GB and cellular for me, arriving 3/31. With the Apple Pencil, upgraded MS Office Apps, and a 365 subscription, I am looking forward to doing productive work on this machine (mainly handling email and editing Word and PDF documents prepared by subordinates). If all goes well, I will be dumping my 2011 MacBook Air in favor of this new iPad.

I have the 9.7inch 128GB WiFi arriving on 31/3 (just got dispatch confirmation - woohoo). Was hoping to get the 32Gb version until I realised I only had 20Gb space left on my 64Gb Air. Spent a couple of hours frantically deleting everything I felt comfortable deleting and got to 32Gb free - which gave me no leeway at all. Reluctantly realised I needed to go to 128Gb :-( and needed to spend another >£100. Like others, I've played with the 12.9inch and - whilst I'd love the extra real estate - it's just too big and heavy. At the end of the day I just wanted a 9.7inch iPad that works with the Apple Pencil - I can't imagine taking pictures with the iPad (I still think it looks silly) and - in fact - I'd be happy to do without that annoying bump!

On the topic of replacing a laptop with an iPad: When I can get (or even need) Default Folder, PathFinder, ScriptDebugger, Filemaker Pro Advanced, Photoshop (not Lightroom) and Bridge, Keyboard Maestro, Knox, and a few other items I use hourly and not just daily, then I could give up a laptop, let alone a desktop computer. So I want one on the 9.7 inch iPad Pros. Maybe. If I feel my iPad Air 2 isn't cutting the mustard any more. (After sitting on it, and being in a bent state, it's still chugging along just fine.)

I bought the 12.9 inch version when I could get the pencil at the same time eventhough I knew that the Baby pro where very likely to be released within a few weeks. My reasoning was that I wanted the bigger screen estate having tried running apps side by side on an Air 2 and finding that a bit to cramped. I bought the iPad Pro and the pencil because I wanted and are using it for my studies. The combination the 12.9 inch screen an Apple Magic Keybord and the pencil is really a great combo when taking notes in class because it enables me to combine computer text with handwritten notes and mind maps. And the size of the screen makes the use of 2 apps at the same time comfortable. Another important reason for me buying the bigger version was cost saving. My wife had talked about buying the latest version of the MacBook Air, but I already had the previous version of that and by buying the bigger version I no longer need to bring it with me to school which means that my wife can use it whenever she needs to.

In my case I have the 9.7 pro coming because my iPad 3 (first retina iPad with the old large connector) is getting more and more reboot happy the last year or so. i have deleted stuff from its 64gig space to have the suggested 6 to 8 gig unused but the first few years of its life i don't ever recall restarting it or shutting it all the way off except for new iOS updates but it has just become fragile from a software support basis and I bet iOS 10 will not support the old iPad 1 through 3... it is also very slow compared to my iPhone 6... s for the rest yep i no longer travel with my 2009 macBook Pro it now controls a Rostock Max V2 3d printer and my work is done on the 27" 5K iMac so that is the main task for the new iPad pro travel support and CAD work on it when I travel using OnShape that need did pull me to the large pro but on reflection the travel Cad work is not creation but correction of models created on the iMac so the 264 Gig 9.7 got the buy order the apple Pencil came yesterday

iPad 3 user here. Been holding out for the Pro for years. I really want the big 'un, but I sense some revolutionary hardware and software improvements in variants to come (pressure sensitivity and some serious optics), and so I'll settle for the 9.7" variant for the time being - my faithful iPad3 is struggliing on gamely but is so clearly on its last legs. Time for a change up.

I have just got the 12.9 I already had an air 2 9.7 so it was a no brainer The screen size is the killer. It just makes browsing, watching videos and photos so much more pleasurable. The downside is obviously portability, but that's where my air2 comes in I splashed out and bought the keyboard and pencil too, both of which are really impressive. For me, IOS is more suitable than a Mac so the 12.9 acts nicely as a laptop, something the 9.7 might be a bit small for

Although I was waiting to upgrade from my iPad Air 2 because of the pencil and keyboard support, I am not upgrading due to some deal breakers. Let's be honest here, $599 for 32GB is outrageous and still not enough storage for my usage. I am not going to spend $150 more on a 128 GB model. Plus, the keyboard is still expensive for another $150. They are not backlit and don't have function keys. 2GB of RAM? Are you kidding me Apple? It is hardly enough on my iPad Air 2 when I open mutilple apps and multitask. 2GB is not future-proof at all, and I will not be wasting my money this year. I will wait until next year; or if the price for base storage doesn't get cheaper, I will have to trade-in my iPad and MacBook for an high-end surface pro. I am starting grad school next year, I will really need the pencil to jot down notes. I like the size and portability of the iPad 9.7"; otherwise the surface line up has become very tempting. SSD and RAM have become extremely cheap in this day of technology.

I couldn't agree more with the thoughts shared in this thread. For me the 9.7 is the perfect size. I carry an over the shoulder satchel that houses my Canon Eos M, three lenses and an iPad Air 2. You don't even notice I'm carrying any id that from the outside looking in. Anything else needed as I pertains to screen real estate or processing power can be done from my iMac or Windows setup. Nice write up. :-) Sent from the iMore App

If this came out 6 months or even 3 months ago then YES !
But I bought the 12.9 with pencil and it's been great .
May eventually buy this for my brother to upgrade his (my old) air2
A bit pricey, was expected a lower price .
PS the pencil and Goodnotes app make this the PERFECT NOTEPAD REPLACEMENT .

So? Sent from the iMore App

I will be going with the 9.7 baby pro, for all the same reason you said. I have a 12.9 IPad Pro and will be giving that to my wife, I have used it since it came out and can honestly say it's just to big of a tablet for me and my use.

I bought my mom the iPad Pro 12.9 (256GB Wifi+LTE) with the Logitech CREATE keyboard case and Pencil. She loves it. She has now abandoned her Windows laptop completely which makes me very happy bc I hated coming over to constantly "fix" or update it. Now between her iPhone and iPad, she is now 100% in the iOS ecosystem which makes life so much easier bc both devices work the same way. It did cost a pretty coin, but for her that 12.9" screen was just what she needed to make the leap away from her old laptop. Sent from the iMore App

Best comment ever. Moms are the best. You are a good son.

I was jealous of the True Tone feature for about 30 seconds and then I looked at my big beautiful 12.9" iPad Pro and got over it. Im glad there are options but my preference actually takes me to the higher end of the spectrum. Big fits me because I am big. 6'5" tall and can palm a basketball so big has always been good especially where the iPhone and iPad are concerned. So daddy Pro and 6s+ all the way. Glad there are options for everyone though.

I'm also a big guy and I'm leaning towards the bigger Pro. I have the Air 2, which my mom wants to take. I feel like the point of having the Apple Pencil is negated somewhat by the smaller canvas of the smaller Pro. I'm curious though; what is your case solution?

I actually got the Smart Keyboard about a month ago for my iPad used on eBay. I didn't realize there was nothing protecting the back so I snagged this Moko hard plastic cover for the back from Amazon: http://www.amazon.com/iPad-Pro-12-9-Case-Transparent/dp/B017130JIQ?ie=UT... I really like that it is made to work with the Smart Keyboard. As for my phone, I have several cases but for about the last month or so I've been using the Lifeproof Nuud. and am pretty happy. The clear back tends to scratch very easy and the plastic looks cheap but it protects the phone well so it's doing its job.

I love the 12.9" iPad Pro Cellular plus my 6S+. I am an IT Professional and the 12.9" makes working with Remote Desktop and LogMeIn a breeze. The extra workspace makes note taking a snap on the go and of course the keyboard and media experience are also fantastic. The iPad Pro has become my laptop of choice. Now when I see the 9.7" iPad it seems small and blinding but you now have a choice. P.S. I also prefer the 4GB of Ram over the 2GB 9.7 under clocked 9.7

The iPad Mini with the 7..9 inch screen and light weight design is the best iPad for traveling and using on the go. Not as easy tor reading, watching videos, and overalltaks due to the smaller screen. The 9..7 iPad models are better. Much easier to read, watch videos,, and do everything else yo want. A noticeable difference compared to the iPad Minis. Between the 2 I prefer the 9.7 inch iPad models.
I own one of each being a iPad Mini 4 and iPad 4.
My next goal is to get a used iPad Pro 12.9 inch model. I want it for the bigger screen. Hoping to spend between $500 to $600 for a usd one. What I noticed is the iPad Pro 9.7 inch model cost is much cheaper than the 12.9 inch model. The 12.9 inch model costs $200-300 more. For people on a budget or get a used iPad Pro most people can afford the 9.7 inch model but can''t afford the 12.9 inch model.. I think the 9.7 inch iPad Pro will be selling more for this reason.
.
Get the best of iMore in in your inbox, every day!
Thank you for signing up to iMore. You will receive a verification email shortly.
There was a problem. Please refresh the page and try again.