Why I'm getting the 9.7-inch iPad Pro instead of the 12.9-inch one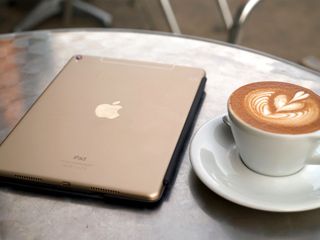 The 9.7-inch iPad Pro, Apple's newest addition to its tablet line, is almost an exact internal replica of its big brother, the 12.9-inch iPad Pro. Why am I going for the smaller Pro? Size matters.
Smaller = more portability
The primary reason I'm buying a new 9.7-inch iPad Pro is the same reason why I didn't buy the 12.9-inch iPad Pro last year: portability. A 13-inch tablet is just too much real estate for my needs. I have yet to trust the iPad to do the work of my laptop (although iMore Managing Editor Serenity Caldwell proves it is possible), and the only reason I have for needing a larger screen is to do work that requires a more useful computing device. For now, if I need the benefits a 13-inch screen provides, I'll use my MacBook Pro.
That brings me back to the portability factor. If I'm on a trip and I know I'll be working hard on my MacBook Pro, I'm not going to want my tablet to take up too much additional space in my bag. If I owned a 12.9-inch iPad Pro, I'd probably leave it behind whenever I took my MacBook Pro — too many devices with similar bag footprints weighing down my carry-on. In contrast, with the 9.7-inch iPad Pro, I can take both and not feel either is redundant.
Smaller = better camera features
Apple has added a few features to the 9.7-inch iPad Pro that aren't available on the 12.9-inch iPad Pro — primarily ones that relate to the camera. The iSight camera on the smaller iPad Pro is 12 megapixels, as opposed to the 12.9-inch iPad's 8-megapixel sensor, and the Facetime camera is 5MP rather than 1.2MP. In addition, the Baby Pro can record and play back 4K video at 30FPS. That makes the quality of the tablet's camera as good as the iPhone 6s.
Say what you will about shooting photography with an iPad, but the truth is, lots of people do it — myself included — and with a huge viewfinder, capturing 4K video on an iPad Pro is almost like looking at an HD professional monitor on a film set.
Smaller = lower cost
I try not to think too much about cost when purchasing Apple products; I'm happy to pay a premium for great hardware. When the 12.9-inch iPad Pro first launched, however, I just couldn't justify paying the same price for a tablet as I could for a laptop. It seemed like overkill.
In contrast, the 9.7-inch iPad Pro starts $200 cheaper than its larger counterpart — and just $100 more than 2014's iPad Air 2. $599 is still a hefty chunk of change, but it's much closer to the kind of change I'm willing to shell out when it comes to tablets.
At its core, the 9.7-inch iPad Pro feels a lot like an updated version of the iPad Air. I could probably get away with calling it the iPad Air 3, but I won't — mostly because I like Serenity's "Baby Pro" moniker too much.
Let's not forget about the new True Tone system
True Tone is the one brand-new feature that Apple debuted with the 9.7-inch iPad Pro. It's not yet available on any other device, including the iPhone 6s. And call it silly, but I really get a kick out of having a feature that no one else has.
The feature is a lighting display system for the smaller iPad Pro that adjusts your display depending on the lighting and color in a room. It uses two four-channel sensors to measure ambient light and color, then automatically tunes the white balance of the screen to your surroundings. Apple claims the feature brings a more natural "paper-white" viewing experience to the iPad, which could be something special indeed: Many of us have been staring at harsh blue digital screens for so many years, we often forget the feeling of resting our eyes on paper affected by natural light.
What it all comes down to
My 32 GB Rose Gold 9.7 iPad Pro (which will match my iPhone SE, natch) will be on my doorstep March 31. Portability won this round of decision-making for me, but price and a better camera didn't hurt the baby Pro's prospects, either.
What is your preference? Do you think the 12.9-inch iPad Pro is the perfect size, or will you be getting the Baby Pro? Let's discuss in the comments!
And if you're looking for more iPad Pro reading, you can also check out Serenity's reasons for sticking with the bigger model elsewhere on iMore.
Get more iMore in your inbox!
Our news, reviews, opinions, and easy to follow guides can turn any iPhone owner into an Apple aficionado
Lory is a renaissance woman, writing news, reviews, and how-to guides for iMore. She also fancies herself a bit of a rock star in her town and spends too much time reading comic books. If she's not typing away at her keyboard, you can probably find her at Disneyland or watching Star Wars (or both).