If you buy the 9.7-inch iPad Pro, you'll get to use Microsoft Office for free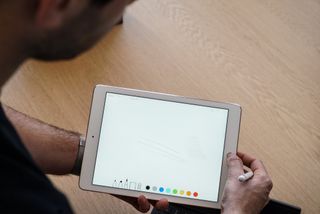 Here's a little tidbit you likely weren't aware of. Did you know you could take advantage of Microsoft Office apps on the smaller 9.7-inch iPad Pro for free? Thaks to the way Microsoft structures its Office suite offering, those with the new iPad Pro won't have to pay for the Office 365 subscription. The Office apps on iOS will be freely available fo download.
The reason behind Microsoft's decision to offer a free suite of apps for what the company considers mobile devices is due to the fact these lightweight apps are developed for on-the-mobile productivity. While the full version of Office apps available for Windows and Mac will always be utilized for powerful content creation, mobile apps are seen as tools for light editing. How does Microsoft distinguish between the two? Screen size. As reported by MacWorld:
It's an interesting bonus of Microsoft's own Office strategy, which will enable those of the new iPad Pro to get the Office suite of apps for free, while those who opt for the larger variant will need to fork out for a subscription. When making the comparison against Surface tablets, this addition of Office makes the 9.7-inch iPad Pro appear more competitive even with the inability to run a full blown version of Windows.
Get More iPad
(opens in new tab)
I don't know, my experience is that when using the iPad Office apps, it asks you to log into a 365 account to take advantage of editing features. I don't think Microsoft can distinguish device size by app - only the iPhone vs. iPad app. I'd love someone to tell me how they are getting free 365 access via the iPad app on the smaller iPads. Yes, technically speaking you should be able to use it free... just don't know how they are pulling it off and think you still have to buy a subscription to use an iPad.

This. 100% this. If someone provides info on how to fully use the Office suite with no restrictions on devices below 10.1", the win the internet for this week.

I have an Office 365 subscription that allows me to install Office on two PCs and/or tablets with screens larger than 10.1". Right now Office is installed on my wife's MacBook Pro and my MacBook Pro. We also have all of the Office apps on our iPhones (she as the 6S, I have the 6S Plus) and iPads (both iPad Air 2's). My wife has her own Microsoft account and she used that to log into Word on her iPad. She doesn't have an Office 365 subscription but it still lets her fully create and edit Word documents (and Excel and PowerPoint). You just have to log into one of the apps on a device with a screen smaller than 10.1" and you can start using everything for free. No credit card information, no subscription, nothing like that. You just need an MS account. The device information is sent back to MS when you first log in regardless of platform. I tried logging into my friend's 12.9" iPad Pro and was told that I reached my two device limit (even though I have my MS account associated with four devices running Office, two smaller than 10.1") and had to manage my devices before I could fully use Office on the iPad Pro.

Interesting - I'll try do some testing on my devices to see if I also experience the same. Being an enterprise, all our users email address are already associated with our 365 tenant. (not all have the necessary license to use Office) I think this is one of the pieces that adds confusion. Asking all these users to set up a separate Microsoft email to get into their Office apps for free would be a nightmare.

It's been this way for about a year now, and it doesn't matter what platform you are on (clickbait article title notwithstanding ). This works for Windows, Mac, Android, iOS, etc the same way. If it detects the smaller screen you don't need to pay, and if you do pay (for computers) it does not count against your install limit. I have it on my Air 1, my iPhone, and numerous Android devices. I can create/edit on any of them.

I agree that the iPad Office apps are not fully featured without a 365 subscription, but they do allow you to do quite a bit. It doesn't limit it to just creation. So far I haven't run into any limitations for my use cases (basic docs, budget spreadsheet, power points for work).

Right. But if you go back and forth between, say, an iMac and your iPad, you will still need a 365 subscription to work on the Mac. When I upgrade my iMac later this year, I'll be taking the plunge and getting a 365 subscription. For my work, I will need it.

My experience as well. You can install the apps for free and view files, but to really "use" Office you have to subscribe.

I log into my 365 subscription on my both of my Ipads as well as my wife's Ipad Pro to take advantage of the One Drive storage. All of the devices show up as logged in on my subscription page but the counter of available device licences for tablets still shows four. Weirdly or not, my 10.1 Surface Pro 2 didn't seem to count against tablets. It counted against computers. In a day and age when third party companies can tell what you have running which browser on which version of your os just by visiting a Web page, it would be shocking if MS couldn't differentiate between different Ipads. Sent from the iMore App

Microsoft has a history of doing stupid stuff, so this of course is no surprise (plus it should be obvious, so an article really wasn't needed. We knew months ago of the screen size decision.)

Like any Android tablet under 10 inch. no new here. We will get the next call.

That's good news. Nokia X2-01
Get the best of iMore in in your inbox, every day!
Thank you for signing up to iMore. You will receive a verification email shortly.
There was a problem. Please refresh the page and try again.