We're giving away 10 FREE passes to the iBooks Author Conference!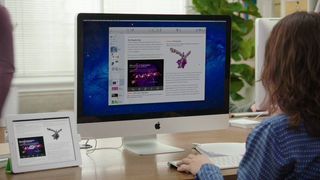 The iBooks Author Conference is the annual gathering of the iBooks Author user community, from creatives to educators to marketers to self-published authors to corporate trainers and all other next-gen content creators. Last year, Apple was the largest attendee and several other large organizations, such as HCA and NASA, attended alongside many individuals using iBooks Author or considering using it. The Conference allows the sharing of thought leadership and best practices, as well as a rare networking opportunity across sectors.
The 2016 Conference features a powerhouse lineup including iMore's own Serenity Caldwell and separate tracks for creatives and educators alike. Don't miss it: October 6-7 at the sprawling (and famous) Opryland Hotel.
iBooks Author, after a rocky initial release back in early 2012, has emerged as an essential technology for content creators from coast to coast (opens in new tab). The iBooks Author Conference is the place to plug in and learn not just what's happening now, but what's coming as well.
Are you interested in attending the 2016 conference? We have 10 free passes to give away to our readers! If you'd like to win one, leave a comment below. You MUST indicate in your comment that you understand that the prize is only a conference pass, and that any airfare or accommodations are the responsibility of the attendee. If you'd like to take a guest, please indicate that as well. Based on interest and participation in the giveaway we may decide to give 5 people two passes, or 10 individual passes, etc. We will accept entries through September 27th and after that go through and pick winners! Good luck everyone!
Hi there! I'm a High School Teacher (English, Journalism, and Theatre) in New Jersey and I'm trying to bring more interactive learning to our school faculty. I would love to go with our media specialist and learn about how to get the most of a digital media source such as iBooks. I understand this competition is just for the pass(es) and would be grateful for the chance to go! Thank you.

My wife and I are starting up a side business and having the skills to craft high quality attractive eBooks would be an amazing boon to your venture. We both would love to attend, but if it is decided to only hand out one per person we'd be happy to just have one pass. Plus we live right outside Nashville anyway so all good from our end.

Greetings iMore! I left the corporate ranks to start my own tech biz this summer and my wife is also punching out to start a new career this Fall as well. One of our passions and directions we'd like to incorporate into our stable of new life projects is to develop iBooks for children with disabilities. Our grandson was diagnosed with autism (ASD), ADHD and apraxia this summer, and we have felt for the past couple years now that this would be a great way to utilize our strengths from our prior careers in tech/childhood education in support of these children that face additional hurdles. We attended a lecture by LeVar Burton earlier this year here in Omaha and left knowing our path must include this addition. Now that we will have the time to run with it, this conference comes at a great time to help start this venture off for us. While we would love to both attend, we totally understand if you choose to spread out the net further. We appreciate your consideration and *love* your proactive drive to help get this technology in more folks' hands!

Unfortunately, it looks like my wife won't be able to get away from her job during this event, so it would just be me this time. As such, I'm totally understanding I'm covering expenses for accommodations, meals, travel, etc. (all except the conference fee should I win a pass). This works well anyway, as I'll be passing through on the way down to work with a client in Florida, and Nashville is like perfectly halfway so it would be a super mid-way stop over to get some geek on. Thanks again for consideration. Hopefully more commenters in iMoreland will join in on the offer!

I would like to have a couple of passes for two instructional designers that I manage at a university in Atlanta, GA. We have built a few books using IBA, integrating Tableau & other web tools, but would love to learn more

I am a learning technology specialist at Southern Illinois University and would love the opportunity to get deeper into iBooks for our faculty. I have made a few mock-ups and have been pushing this tech.
I can drive to Nashville in 3.25 hours, so this is very doable for me. The state of Illinois is in chaos and there isn't any travel funding these days, so a free ticket gives me good reason to go without any costs to the U (i'll cover the gas and hotel).

Don't count this as an entry,
but for all those who love books. It's something worth while going. :)
Hopefully one day i can book a trip. Nice giveaway iMore!
Get the best of iMore in in your inbox, every day!
Thank you for signing up to iMore. You will receive a verification email shortly.
There was a problem. Please refresh the page and try again.