Amazon releases Windowshop for iPad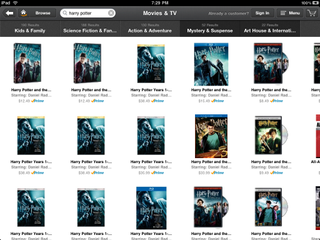 Amazon has released Windowshop for iPad. If you use Amazon as frequently as I do, you may already realize that the current iPhone and iPad offerings are pretty grim. I've never been a huge fan of the Amazon app as it seems to just be a mobile version of the site shoved into an app. Windowshop seems to bridge that gap quite nicely on the iPad and it's now available in the App Store as a free download.
It does an extremely nice job of separating categories and allowing you to quickly switch between them. To me, this is a lot less tedious compared to weeding through search results and refining them. Your categories will simply appear at the top and you'll be presented with columns of search results. From there, you can simply pick the best category at the top that best suits what you're looking for and just search within that section. If they could make a scaled down version of this for the iPhone as well, I'd be all set! Pick it up and give it a shot, and of course, let us know what you think!
[iTunes Link (opens in new tab)]
iMore senior editor from 2011 to 2015.
Really nice format for this app. It really reminds me of the old holiday wishbooks that sears and other stores used to mail out this time of year WWWWAAAAAAYYYYY back in the day

It's a very nice app for browsing. I saw about 10 different things I wanted to purchase without even entering anything in the search field. Now if only I had the money to pay for all those desired items.

Allyson,
The amazon app for iphone is A LOT more than just theit mobile version of amazon.com. GET with the program dudette!

What is the point of needing this on the iPad? Just go to the full site. iPhone is different story, but I love the current Amazon app.

@artvanburenboy
i simply disagree, go to amazon.com in safari and open the app, they both have about the same functions. the layout is messy and not refined and it looks like a bad version of the mobile site. it's my opinion, i'm entitled to it, doesn't have anything to do with "getting with the program"... I simply don't like it. ;)

Yes you can have opinions as can @artvanburenboy so chill. :)
Get the best of iMore in in your inbox, every day!
Thank you for signing up to iMore. You will receive a verification email shortly.
There was a problem. Please refresh the page and try again.