Top 5 iPhone and iPad apps for electronics shoppers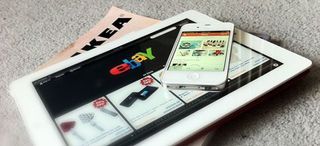 Breaking down the top 5 best iPhone and iPad shopping apps to help you find, compare, and buy the electronic gifts you need and want
Itching to purchase a new electronic gadget or accessory and wish you could shop from the comfort of your iPhone, iPod touch, or iPad? Whether you're looking to buy a bigger screen TV, some speakers, or even a brand new iPad, there are a ton of apps for just exactly that. Here are some of our favorites.
Amazon Mobile
Everyone who is familiar with online shopping knows that Amazon is one of the primary for just about anything, including electronics. With Amazon Mobile, you can shop for your latest gadget with ease from your iPhone or iPad. Additionally, you can shop for a friend or family member's a wish list or add items to your own.
Out and about and wish to compare the price of an item in a retail store with Amazon? Scan the barcode with Amazon Mobile to instantly search for the item. Once you place your order, you can also track its status in anticipation for its arrival.
Apple Store
The Apple Store, online or retail, should be your first stop when shopping for Apple products, and the Apple Store app should be your first tap when shopping from your iPhone. In addition to online shopping, you can reserve items for in-store pickup, track your orders, and schedule appointments at the Genius Bar.
While visiting an Apple Store location, you can even purchase accessories on your own with EasyPay, request help, check in for reservations, and meet up with a Specialist at the store. Unfortunately, the Apple Store app is not a universal app, so there's no optimized version for the iPad. (Get on that, Apple!)
Best Buy
If you have a Best Buy nearby, I'm sure it's one of your primary locations for picking up anything related to electronics. With the Best Buy app, you can do your shopping from the comfort of your iPhone. Now, if you need an HDMI cable for your Apple TV, you may be wondering why you'd want to shop for that with an app and wait for shipping when you can just drive a few miles down the road and pick it up now. Well, with the Best Buy app, you can verify that your local store has the item in stock, purchase it ahead of time, then head into the store and pick it up in person. You can also look up the Best Buy trade-in value for your Wii, Xbox, Sony and other video games. Shop smarter, not harder.
Ebay
With the eBay apps for iPhone and iPad, you can can bring the word's largest marketplace with you wherever you go. And as all eBay shoppers know, this can be an essential asset to eBay shopping because you will receive instant alerts when you are outbid or when auctions are ending. In addition to shopping with the eBay app, you can sell your own items and upload photos directly from your iPhone or iPad's camera.
Newegg Mobile
Looking to build a new PC or upgrade your iMac's ram? Newegg is likely your first stop for computer hardware or software purchases. With Newegg Mobile, you can shop from your iPhone - read reviews, view photos, and make purchases. You can also keep up with the latest deals, even when out and about.
Your favorite electronics catalog?
So there you have them, our top 5 best electronics shopping apps for iPhone and iPad. Be sure to check out our other Top 5 picks, our Picks of the Week, and iPhone App and Games Forum for more recommendations, and if we missed any of your favorites leave them in the comments below!
Get the best of iMore in in your inbox, every day!
Former app and photography editor at iMore, Leanna has since moved on to other endeavors. Mother, wife, mathamagician, even though she no longer writes for iMore you can still follow her on Twitter @llofte.
I won't put any of those on any device that I own, many small leaks sink the ship dad always said, bless his soul. If you stay away from ebay, amazon, etc unless you NEED to get something you'll save more money than these apps will save you! There is always something that will catch your eye. I actually did that this year and my husband was shocked at how much money I did not spend LOL

1 AMEN TO THAT....
This year, I bought up to 10 items on amazon. I really never use them :(

Use a deals app too. Or go to slickdeals.net and search.

Eh... If you need an HDMI cable, you certainly do NOT wanto to go to any of the box box retailers for that. Huge markups.
Cables they sell for $30-60 can be found for $2-3 (not brand, but just as good) if you look at smaller online retailers.
Sorry, that example just triggered one of my pet peeves. :)

I cant believe people still shop at best buy its literally the worst customer service and prices are horrible. I just gave up on them. I went to best buy day before Christmas that was the first time in a year I had walked into that store. I use to like it but there is always a selling pressure put on the consumer and you gotta sell that warranty that they never honor or it takes like 4-6 weeks to get repaired.
BTW where is craigslist? also the comments system changed again?

People are damn crazy about iPhone and iPad apps and I am also one of them. I must say that this post is very useful for me. Thanks a lot for sharing.

Wonderful points altogether, you just received a new reader. What might you recommend in regards to your put up that you made some days in the past? Any positive?

Make sure that you price match so you will be able to get the best deal. Most people never really think about this when they are trying to find the best deal. Most companies want your repeat business so that's why they are so willing to do it for you.
http://shopping-for-electronics.com/tablets.html
Thank you for signing up to iMore. You will receive a verification email shortly.
There was a problem. Please refresh the page and try again.