Castro for iPhone gets URL subscriptions for your festive podcast feasting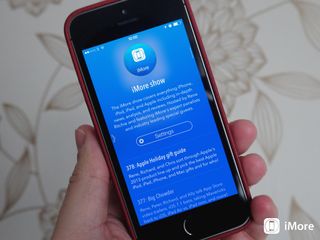 When Castro for iPhone first launched a couple of weeks ago, we found it to be largely impressive but there were a few bits and pieces missing that folks wanted from a podcast client. Sneaking out of the App Store just in time for Christmas is the latest update which boasts a pretty extensive changelog, with one of the better looking items being support for subscribing to a podcast from a URL. Here's what else is new:
You can subscribe to podcast from URL copied to clipboard.
You can manually download episodes using mobile data even if you have it turned off to automatic downloads.
Adds larger cache size options. See Castro settings in the Settings app.
Adds setting to disable sound effects.
Fixes bug that could cause data loss if you tried to play an episode from the lock screen after a device restart.
Enables pull to refresh on Episodes tab even when no episodes are showing.
Uses search result artwork if podcast feed is missing artwork.
Original podcast art on the lock screen.
Fixes a layout bug when tapping into a podcast from search results.
Fixes bug where download notifications weren't getting sent sometimes.
Fixes bug where downloads found when on mobile data weren't getting downloaded when back on Wifi.
The URL subscription method in particular was something a lot of you wanted before being able to give Castro a try, and a hat tip to the developers for getting it added so quickly. The rest of the new stuff all adds up to make an already great app just a little bit better. It's still available for the special launch price of $2.99 right now, so if you pick it up for some festive podcast listening, let us know what you think of it.
Get the best of iMore in your inbox, every day!
Love the update. Now I have all my podcasts in the app!

I never listen to podcasts, but surely this might make me jump on the boat.

The ability to subscribe to custom podcast feeds is the biggest thing that I missed in the original release. I'd love the ability to set custom skip intervals, but the custom podcasts addition is enough for me to switch full time to Castro.

Nice update, I wish they would make universal Apps that works on all my devices. This would be more appealing. I like my devices to offer me the same experience and the same feel. Sent from the iMore App

Is this any better than Downcast? I love Downcasts playlist and continuous play options. Sent from the iMore App

Btw, what's up with the name? We're they intentionally trying to alienate all Cubans? Sent from the iMore App