iPhone 4S, iPad 2 jailbreak now available via Greenpois0n Absinthe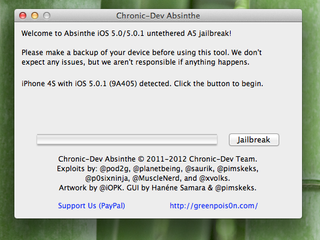 iPhone 4S and iPad 2 users have reason to rejoice today - you can finally untethered jailbreak! They stated earlier today the jailbreak was almost complete and ready for release. It didn't take very long as the tool is already available.
As a note - this jailbreak will support iOS 5.0 and iOS 5.0.1. Here are the requirements for each device -
iPhone 4S - iOS 5.0 or iOS 5.0.1
iPad 2 and all GSM and CDMA wifi only devices - iOS 5.0.1
iPhone 4S users that would like a software unlock should stay on iOS 5.0 for now. You can grab the Mac and Windows versions from our downloads page link below.
Source: Greenpois0n.com
iMore senior editor from 2011 to 2015.
woohoooooo yes!!!!!!!!!!!!!!!!!!!!!!!!!!!!!!!!!!

YYAAASSSSSS. take that apple!

So I have a GSM unlocked iphone 4S I purchased from the Apple store, I'm all good to go and jailbreak without much hassle?

ya your fine, as long as yours a factory unlock straight from apple.

who's done it? report back!

OK, its working great on my 4S, now off to JB my iPad2

"Error establishing a database connection" on iPad 2!

same with iphone 4s "Error establishing connection" there site is also down must bee everyone trying to do it :(

iMore and more don't like the name iMore
sounds poetic, doesn't it?

can not connect to database. Hmmm, and just released, they cant be swamped yet.

Now I wish I didn't upgrade to 5.0.1. Can I downgrade so I can do it.

Absinthe works on 5.0.1
You should be fine.
There is no way to downgrade at this time.

its running now...ill let you know how it goes

Mine is on the 2nd step. "Sending initial data" and my iphone says "Restore in Progress" and it's been that way for 8 minutes now.

when i run absinthe from my phone, i get "Error establishing a database connection."
@Planetbeing says:
If the Absinthe webclip shows an error, Go to Settings, turn on VPN and wait.
I'm doing that now.

i can't launch absinthe!! i'm wondering if it has to do with my mac's os being 10.5.8. can anyone help

i would guess the first version is for 10.7.x

I am on 10.6.8 and I am able to launch it.

It might be only Snow leopard or higher only.

anyone know where i can download snow leopard now!?!?

And what about us window users is there one available.

Damn. Works great until you need to load Absinthe. Error establishing connection.

Just keep trying it will go through.

settings network >> vn(somethiong) switch to on

holy hell that was EASY! definitely sending a few bucks to these guys. well done.
as for the database error, keep trying, i got through finally.

Mine is on the "Sending payload data, this may take a while.." part.

Smooth as silk! Im jailbroken!

4s done now waiting on connection for iPad 2 so I can finish that !!!!!! Will some of you get off the Internet for 5 mins !!!!!

Get it here: http://www.box.com/s/jmy0a0tyfcahqc6bdx93.

Sweet, just in time to go home for my lunch break.

WOOHOO!!! You guys are the best!

Whew, all done. It took a while. It's great to see Cydia again!

Cant launch!! Im on 10.5.8

We broke their site. It won't load now. Come on Windows version!!

GO TO YOURE VPN SETTINGS GUYS WORKED FOR ME :)

This is a minor issue for me. I have a VPN profile I use that was installed by my work. After Absinthe installed Cydia and rebooted my iPhone, I lost the profile. I just re-installed the VPN profile and I am good to go. Also, my Calculator Icon is blank (white). It lost it's icon. Other than that, things are great.

Guys I posted a fix for the database connection error in the how to article on the forums a bit ago. Go there. If you run into other issues the forums are a great place to get help and find answers. Try posting there and you'll get help a lot quicker than the comments sections.

I don't have 5.0.1 have the 5.1 beta

Awesome news. Sucks for me though since I have to wait for the windows version

Jailbroken here..yeeeessss!!! Just go to the VPN settings and turn on.. Youre good to go;)

Absinthe jailbreak screen appears where it tells you to plug in device but the jailbreak button isn't working? Any solutions p[lease help

App keeps forcing close :-(

Ah.... #teamjailbreak again... feels good to be back

No problem. Very easy to JB!

JB worked great on iPhone 4S and iPad 2. No problems whatsoever. Well done!

i am in INDIA an I am using an IPHONE 4G. My question is that should i update my iphone to iOS 5.0 or iOS 5.0.1? I want to update but I am scared if JB doesnt work after update then i will be stuck with an dummy Iphone....plz help
Get the best of iMore in in your inbox, every day!
Thank you for signing up to iMore. You will receive a verification email shortly.
There was a problem. Please refresh the page and try again.